The X Factor episode 15 recap: Final 10 live show, November 16, 2011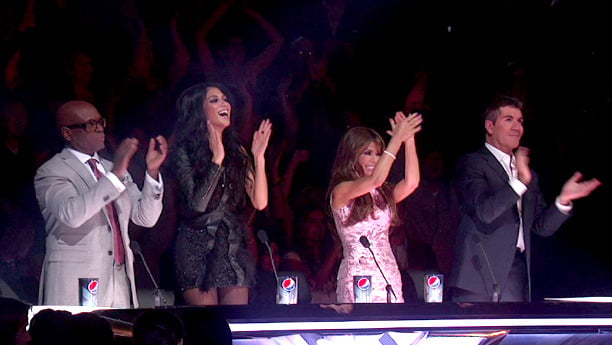 Welcome to The X-Factor! Tonight, the final ten acts perform to earn your votes. Last week saw the ouster of Paula's group The Stereo Hogzz after Lakoda Rain was saved from the bottom two acts.
Steve Jones gets an entourage of dancers to escort him on to the stage as we begin tonight's show. It's Rock week and let's hope the contestants will rock and roll instead of sinking like a stone!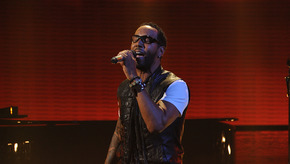 Kicking off tonight's performances is LeRoy Bell from Nicole Scherzinger's Over 30's category. We find out more about his tattoo which he had done a few years ago as a statement of his commitment to music. Leroy opens up with Bob Seeger's Why Don't You Stay with a soft keyboard accompaniment and a clear voice. Back lit in blue light, the arrangement is simple. The lights switch to red, a drummer kicks in along with a chorus of singers as he revs up the song. All in all, nicely done. L.A. says he sounds great but he's "not working it like a rock star." Paula says it's live television and "there needs to be more of a connection." Simon says in terms of originality, it was "zero" and he's being mentored like "a session singer. "Right now, you can't win this competition," Simon adds It turns into a bit of a spat between Simon and Nicole as she praises Leroy. Leroy takes the criticism in good stride, saying that he can win the competition and if there's "a couple of things I need to do, I'll do it." Scorecard: B+ for a solid performance that was pleasing to watch and listen to, although the judges have a point in that he needs to show other sides to himself to earn a wider fan base. We have to like his gracious attitude in the face of open criticism.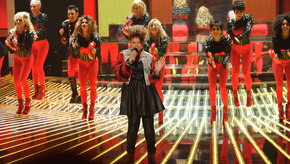 Next up is the diminutive Rachel Crow from Simon's Girls category. Simon says he wants Rachel to try a classic rock song with a bluesy feel to it, so he has her tackle the Rolling Stones' I Can't Get No Satisfaction. The performance starts with an upbeat tempo and a fully lit stage with red and gold visual effects. The song is instantly recognizable with her first verse. So, too, is her unmistakable vocal tone. She's backed by some chorus singers, but they're hardly necessary. After the chorus line, Rachel starts strutting around the stage as she sings. Her voice is loud and clear, even when she's going full volume. L.A. asks her, "Can you sell tickets?" "I can", she replies. Nicole says this song was the absolute perfect song choice (mollifying Simon, maybe?). Paula says she connects with the camera and audience. Simon says he can see her in the Super Bowl Pepsi commercial. Scorecard: A- for an enthusiastic and flawless performance of a rock classic, although it didn't really rock the house. Yeah, it'd be easy to picture her in a Pepsi commercial, as peppy as she is.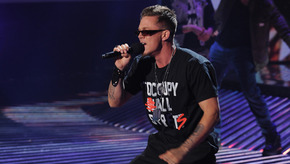 The third act for tonight is Chris Rene from L.A. Reid's Boys category. L.A. is supporting Chris in building up his self-confidence as he continues his new life in sobriety. Chris sings Bob Marley's No Woman No Cry with a rap beat, bass booming and drum tapping in the background. He's waring a blazer over a black t-shirt and some shades for a bit of stage persona. The flowing background lighting is psychedelic in color with the 60's peace symbol. He dances, he struts, he squats. We're hearing more vocal ability from his in this performance than in previous ones, mixing well with the backup chorus. L.A. is loving it, standing up and turning around to the audience with a wave of his arms. Nicole thought it was original, but it wasn't her favorite performance by him. Paula also says it was original. Simon says he loved the performance, but the theme is rock, not reggae music. There's a bit of debate between Simon and L.A. whether it's rock or not. Scorecard: B for a solid, but modern take of a Bob Marley classic.
Before the next act, we're given a graphical display of the number of tweets flying around — 5,105,348 of them and counting at 956 tweets per minute. Something doesn't add up here (let's pull out our calculators) as this translates to 5,340 minutes, or 222 hours, worth of tweets.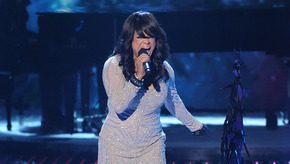 Next up is Stacy Francis with It's All Coming Back to Me Now by Meatloaf. With her back story of past "dark relationship", we're not sure we want it all coming back to us now. Enough of that, let's get on with the performance. The lyrics begin with "There were nights when the wind was so cold, That my body froze in bed," so this certainly doesn't portend to be a hot performance. She sings this song with more of a howling church diva sound than rock or even blues. She's missing the camera and we're having a hard time connecting as the TV audience. It's like she's singing at everyone as she points her finger to the crowd, finishing with a howl. Ouch. L.A. says she sang it well and he's going to leave it at that. Paula says it was her least favorite song by Stacy. Simon says he thought song was a horrible choice. "I wanted rock, that was a pebble." Stacy looks very unhappy with an ugly look on her face. Nicole gives her some words of encouragement. Scorecard: C for a performance that was neither rock, nor connected with the TV or live audience. She'd make a fine diva, but that's not tonight's theme.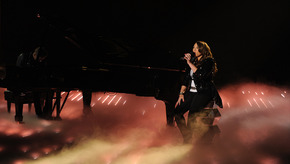 Fifth up is Melanie Amaro with REM's Everybody Hurts. Simon says, "I've stripped away everything. No dancing. No tricks. It's just about her voice." There's no arrangement at all with Melanie seated on a chair and a pianist next to her. Melanie effectively turns an REM song into a slow ballad showcasing her clear, vibrant voice. Finally, she stands up and increases her vocal volume to finish the song. Simon loves it. L.A. says he was confused, that "was so not rock." Nicole says Malanie sounded beautiful. Paula says, "Melanie, you took us to church." Hah! Simon says Melanie reminded him of Adele. Scorecard: B+/A- for a beautiful sounding performance, but again, it seems the judges have sent the contestants on the wrong track for what's supposed to be Rock Week. Having said that, Melanie is a gifted performer.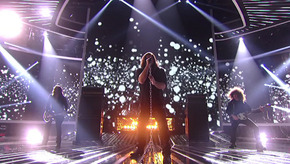 Ok, let's hope we get a rock number for once, or X Factor can toss out the whole American Idol-ish theme night concept. Josh Krajcik doesn't disappoint us with his take on the The Pretender by the Foo Fighters. He starts the song off slowly and just seconds later the song really kicks in with the rock beat and blinding, flashing lights. He's got a deep voice when he hits the parts without the music and otherwise he's rocking it when the music is going full blast along with him. It turns out to be the perfect song choice as Josh rocks the house! The crowd loves it. L.A. says he's the only one who's rocked out the house tonight. Paula says it's Josh's best performance. Simon says it was "bloody fantastic." Nicole is pleased, saying he could tour with the Foo Fighters as the "ultimate rock star." Scorecard: A- for a superb genuine rock performance that we'd been waiting for all night.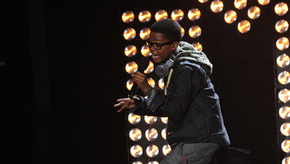 Next up is the one and only Astro with I'll Be Missing You by Puff Daddy, Faith Evans, and 112. This song hardly qualifies as rock as it was initially a tribute to the late Bad Boy Records artist Notorious B.I.G. We can already guess what's coming up next. Predictably, Astro launches into the song with his typical hip-hop rap beat and sound, wearing headphones as a fashion accessory. Although the audience is swaying to the quick beat, is this anything different than what he's done before? Nicole questions whether he's ready for a $5 million recording contact at his age and then says, yes, he is. Paula says she can imagine him selling millions of albums. Simon says Astro's maturity and intelligence is amazing. L.A. says Astro "knocked it out of the park" and has everything he needs to win the competition. Astro publicly wishes a happy birthday to his sister on the air. Scorecard: B- for a very predictable Astro performance that was all rap and no rock, nor song. He's good at what he does, but it becoming obvious that's all he does.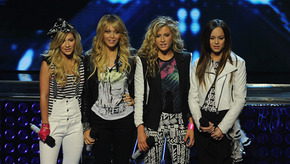 Eighth up is the last survivor of Paula's Groups category, Lakoda Rayne — Hayley, Paige, Dani and Cari. Their names appear vertically on the stage in the background, with each of them on their own platform. So now we know who's who. They sing Go Your Own Way by Fleetwood Mac. The four gals skip the country sound this week, but it's hard to pin down just what sound they're making. Each get a solo piece and there are some choruses, but it comes across as four individual acts instead of a cohesive group one. There's no choreography to speak of, either. L.A. says it looks like they're having fun, but questions whether they measure up to their competitors. Nicole says they've found their niche in "country rock." Simon says they've got potential, but it was "overall, a complete mess." Scorecard: C+ for a decent performance that lacked cohesion, which is no surprise given that these four gals were individual acts tossed together as a group by the judges after auditions.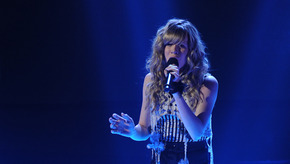 Next to last is 14-year old Drew with a version of U2's With Or Without You. She appears in blue, spotlit fog. Immediately upon hearing her softly ringing voice, we know it's her. There's very little in the way of accompaniment or effects, with just her alone on the stage in song. It's an almost haunting performance the way she sings it. It's a classic Drew performance, although it would hardly rate as rock. The judges are shrouded in stage fog as they give their comments. L.A. says she has the most original voice of all of the contestants. Nicole says she's a little frustrated with the slowness of the song. Paula says she has a huge fan base, but she needs to show some diversity. Simon tells Drew to forget about what the other judges are saying, just keep doing what she's doing. Scorecard: A- for a beautiful vocal performance, incredibly easy on the ears, yet intriguing to listen to, even if it's not rock.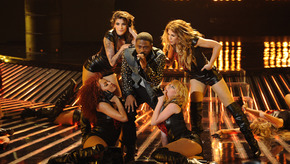 Last up in the pimp spot tonight is Marcus Canty with Janis Joplin's Piece of My Heart. (Now, it would have been interesting to hear Drew sing that song instead!) We find out Marcus sings in church, where his aunt is the pastor. L.A. wants to see the "bad boy Marcus", but Marcus wants to keep to his conservative values. Marcus begins the song with flames raging in the background. He's got on a studded jacket and shades and is joined by dancers in black hot pants and tight tops. Janis must be screaming at the top of her lungs up in Rock Star Heaven about now. Marcus has a pretty good voice that carries the song, but the flaming visuals and dancers are a total distraction. Nicole says Marcus lit the stage on fire. (No, sorry to tell you, Nicole, the stage SFX guy did that.) Paula says it exhausted her. Simon says his mentor L.A. just put him in hell… "too much temptation." Scorecard: B- for an okay vocal performance that was completely drowned out by the visuals that didn't match the spirit of Janis Joplin's song.
Ok, here's a quiz: Out of ten acts, how many were rock performances? If you said more than one, you need to go to rock school.
And that's all for tonight, folks! Which of these acts will earn the votes? It's up to you if you decide to vote!
Stay tuned!