The X Factor episode 11 recap, Final 12 Live Show, November 2, 2011.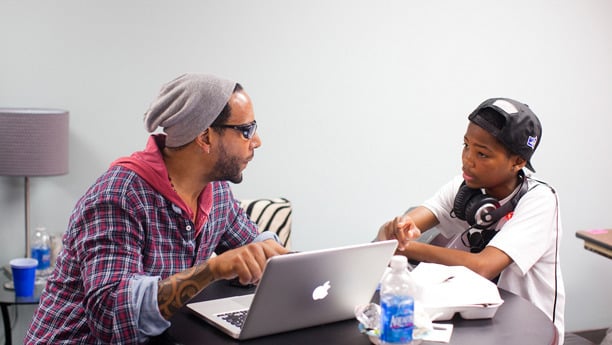 Welcome to the X Facta! (In Steve Jones' dialect.) Tonight, twelve acts will perform and America will vote for their favorite acts. One act will be eliminated in tomorrow night's live results show.
And it's time to Face the Music! Steve comes out onto the stage with lighting effects making it look like ocean waves are sweeping on the beach toward the X Factor judges, L.A. Reid, Nicole, Paula, and Simon. We're reminded that the winner gets a $5 million recording contract and (gasp!) they star in their very own Pepsi commercial! Now that's some fizz. Man, the stage lights are so bright through our screen that we need some shades to watch this show without being blinded.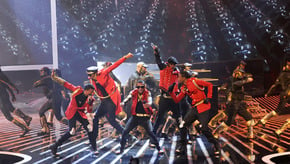 First up are the The Stereo Hogzz, who get a lot of coaching from Paula prior to their performance. They sing Janet Jackson's Rhythm Nation, starting with a solo and then five, four, three, two , one, and they're off in chorus! The choreography is pretty slick and well synchronized, along with some backup dancers. Vocally, they're all there and finish the song on a strong note with a lot of applause. Their performance was quite entertaining. You can tell these guys worked hard on it and came through with flying colors. It was less about the vocals (which, incidentally, were quite good) and more about stage entertainment. Simon says there "isn't a band in the world as good as you." Scorecard: A-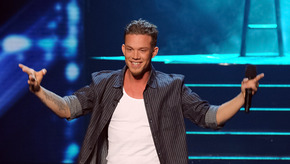 Up next is Chris Rene, who displays his tattoos of Life (left hand fingers), Love (right hand fingers) and Believe (right forearm). He begins The Carpenters' Superstar bathed in blue light, accentuating his tattoos. The beat picks up and then then the lights go red and the flaming special effects start. He sings fairly well, but we're left wondering when he'd get off the platform that he's standing on and start moving with the beat and lyrics. Simon got it right about the effects being hellish. Fortunately, the performance wasn't. But it wasn't all that hot either. Scorecard: B-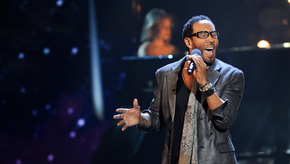 Sixty-year old Leroy Bell sings Lonestar's I'm Already There with a piano on stage playing single notes. He has great vocals, with wide range and finely expressed nuances that go with the lyrics. He's definitely recording artist class. The audience likes it. However, as Simon alluded to, this may not have been the best song choice and arrangement for Leroy, as the average TV audience might find it a bit boring. Although he's charismatic, he's missing strong stage presence (which we might blame on the Hogzz choreography and the hellish effects which preceded him). Scorecard: B+ and hoping he sticks around.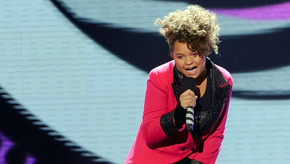 Then it's time for the dolled up Rachel Crow to perform. Theoretically, she sings Katrina and the Waves' Walking on Sunshine, but the lyrics are changed to "you're my sunshine." It sounds like a different song than the original, whether it's the lyrics, the key, or the arrangement. Nonetheless, just watching and listening to Rachel sing with a strong, confident voice makes you smile. Very likable by character, she handles the pressure of being on the stage with class. Scorecard: B+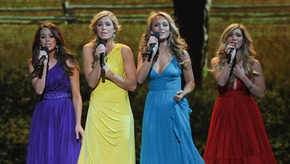 Next up is Lakoda Rain, singing Fleetwood Mac's Landslide in a mixture of solos and choruses. In those prom dresses they look like Grape, Lemon, Blueberry and Cherry. Obviously here as eye candy with a wind machine blowing through their hair, they aren't candy for the ears. It's a thankfully short performance. L.A. says they look incredible, but he's not sure what they're singing, whereas Simon doesn't like their dresses, calling it old-fashioned. We find out the four colors are supposed to represent the different seasons. Scorecard: C+ for a group that could be colorfully named The Fruit Loops.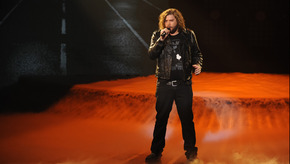 Then we get the burrito-maker and song maestro Josh Krajcik, along with some clips of his girlfriend. He sings Jar of Hearts by Christina Perri. It's a very good performance with a fine voice, but if you've been watching him for several weeks, it's not his best performance to date. Nonetheless, it's a fine version of the song. Simon says it's like Josh wrote the song himself. He's clearly one of the best, if not the best, male vocalist in the comp. Scorecard: A-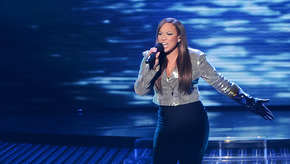 Back to the girls, next up is Melanie Amaro with the Eagles' Desperado. She begins a capella softly without any musical accompaniment and then kicks in her voice as the music comes on. It's a short, but succinct version of the song. Hers was a compelling performance to watch and listen to, easy on the ears, and a pleasure to watch. Simon says, "You are the one to beat, trust me!" Scorecard: A-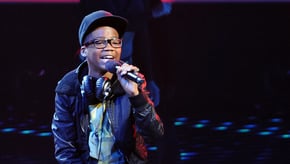 Get ready for some hip-hop! It's Astro with a mashup of Naughty by Nature's Hip-Hop Hooray and Missy Elliot's Get Ur Freak On. A big ASTRO signboard on stage? Check. Flashing fireworks and strobing lights, complete with confetti falling onto the stage? Check. Dancers too old for his age accompanying him? Check. Thumpa-thumpa-drumma-drumma accompaniment? Check. Rap lyrics rattled off so fast that you can't catch all of the words, even when they're repeated over and over? Check. Vocal abilities don't count? Check. Expect to hear this coming out the boombox of a car next to you at a red light? Check. That's Astro for ya. Simon calls him a "little star." He's quite entertaining, but predictable. We'll hear the same thing next week. Scorecard: B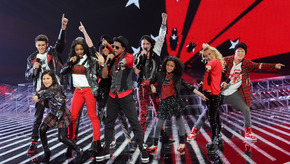 It's time for the last act from the Groups category, InTENsity. The do a mashup of LFMAO's Party Rock and Kim Wilde's Kids in America that Paula has devised for them. There are stars flashing on stage, but — no, it's not them — it's the effects. The ultra-bright strobes are enough to give you stars in your eyes. And the sound would give you stars in your ears, too, if it were possible. While some individual bits were okay, the whole performance lacked continuity. It was a pseudo-Glee mash up (or mush up). Scorecard: C+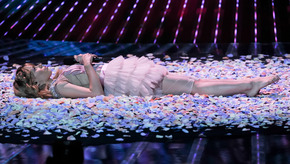 Next up is 14-year old Drew Ryniewicz, singing Nelly's Just a Dream. The visuals of the song introduction are a dizzying array of flower petals. Was she lying down, or up against a mural wall, or what? Are we waiting for Prince Charming to awaken her? Finally, she gets up. And who put her in that silly short dress with white stockings? Just give this girl a pair of Levis and a button up shirt and she'll look (and sound) hot as it is. Oh, and the vocal performance? She's very good, with a clear, sweet, refined, yet folksy tone to her voice that's a pleasure to listen to. Simon says he's seeing an emerging star. Scorecard: A- for Drew. (But the stage and make up crew is way overdoing things to these poor singers.)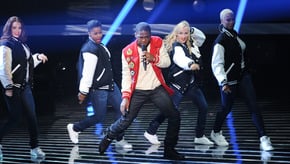 The last of the guys is Marcus Canty with Bobby Brown's Every Little Step. His performance is definitely different from what we've seen from him before. But is he having an identity crisis, not sure to be what he is or what his mentor L.A. Reid wants him to be? Anyway, there were some pretty cool vocal nuances, particularly in the higher registers, that gave it some jive. But he looks out of place singing a Bobby Brown song in that preppy high-school letter jacket with all the girls surrounding him in an arrangement like this. Simon says, "Marcus, you have come alive." Scorecard: B
The last performance for tonight is Stacy Francis, singing Patty Griffin's Up to the Mountain (MLK Song). For the arrangement, they put her on a pedestal, literally and figuratively. Notice the goddess arrangement, way up high on a platform with candles lit all around? Truth be told, she has a pretty good voice and she pours it out. But she's not pleasant to look at while she sings. Rather than being fun, entertaining or enriching, it comes across as sadly depressing. Simon earlier said she's a "church singer" and she sounds like one here. Will it sell? Will it even get votes? The crowd seems to like it. Scorecard: B-
And that's all for tonight, folks! Now go vote. Results tomorrow night!