The Amazing Race episode 6 recap, October 30, 2011.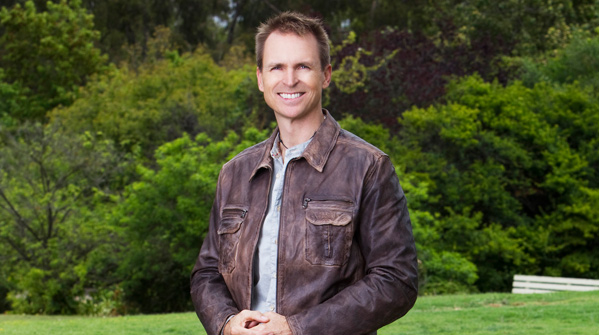 Welcome to the sixth episode of The Amazing Race! With the elimination of Liz & Marie last week, seven teams still remain in the race around the world.
This week's Race begins with previous leg winners Amani & Marcus departing the Pit Stop at 7:22 in the morning. Amani & Marcus have four kids, with the baby a "special needs child", so they're eager to do well in this Race. Teams will fly more than 5,000 from Bangkok to Malawi. Once they arrive, they will make their way to a tobacco warehouse.
Bill & Cathi are next to leave just one minute later, followed by Ernie & Cindy, Justin & Jennifer, Andy & Tommy, Laurence & Zac and, lastly, Jeremy & Sandy. From Laurence's comments, we find out that teams have $365 allocated to them for this leg of the Race. That's a relative fortune in a country like Malawi, but a sizable percentage of it is sure to disappear just for the taxi fare to the Bangkok airport.
Jeremy & Sandy talk about their relationship, as they've only been dating eight months. She says it's a hard transition from "being friends" to "dating" and he comments that "we have to figure what our relationship is really about." If there is any way to find out someone's character and how they deal with stress, being in the Race with them is surely one way to find out!
There's only one flight to Malawi, so all of the teams ("one big happy racing family" as Justin puts it) will once again be bunched together and the racing will really begin when they land in Malawi. They land in Lilongwe, Malawi, exiting the plane on the tarmac and grabbing taxis to make their way to the tobacco warehouse. It turns out that 60% of the country's income comes from the sale of tobacco. Cathi comments to her taxi driver that "your country is very spacious."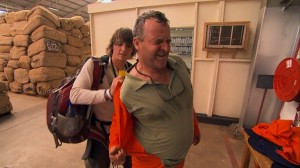 One member of each team has to wheel ten 200-pound sacked bales of tobacco on a hand truck through the warehouse to a drop off location to get their next clue. Already a physically challenging task, it isn't any easier with a bunch of other guys in the warehouse zipping around with their bales too! Justin causes a major jam with three other workers in one aisle after going head-on "like bumper cars" into one of them. Dozens of other workers are sitting, standing and dancing on bale stacks, cheering on the teams.
Meanwhile, Amani & Marcus and Bill & Cathi are still on the way, stuck behind a whole convoy of vehicles on a two-way road. Amani & Marcus reach the warehouse, but "I don't see anything" and have their taxi drive off. "I hope we didn't jeopardize ourselves right there," Marcus comments with justifiable concern and they end up going back to the warehouse. Bill is in his element with his experience of hauling bails of hay on his farm.
Justin is the first to finish the tobacco hauling task to get the next clue. From the warehouse, teams will have to make their way to Memorial Tower and search the area for the next clue. Ernie completes the task next, followed by Justin, Tommy, Laurence, Bill and Marcus in last place. Marcus comments that having the guys in the warehouse cheering him on and escorting him on the way out of the warehouse when he finished his work "was very special to me."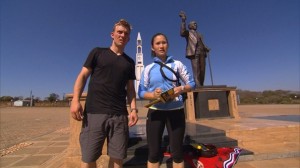 Meanwhile, Jeremy and Sandy reach Memorial Tower via taxi. The next task is a Detour, a choice between "All Sewn Up" or "Not Grown Up". For the sewing task, teams will have to make their way to the White Horse Designs tailor shop to do some sewing work. For the other task, teams will have to make their way to Lilongwe Lea School where they will build two traditional toy trucks out of cartons and bottle caps to be test-driven by the children at the school. Jeremy & Sandy choose to do the Not Grown Up task.
Ernie & Cindy and Justin & Jennifer reach the tower at the same time, in second and third place. Jennifer decides to do the Not Grown Up task, saying, "Teaching and kids, that's my whole life". Ernie & Cindy are still deciding which task to do on the way into town and somehow their taxi driver gets lost, not knowing where to go. Behind them, Andy & Tommy and Laurence & Zac arrive at the tower soon afterward, and both teams decided to head to the school. Later, Bill's wife Cindi says she's a seamstress so she'll do the sewing and Marcus & Amani also decide to try their hand at sewing since Marcus has "seen my grandmother and my mom sew." But is seeing something done the same as being able to do it?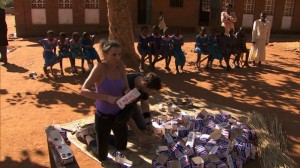 Jeremy & Sandy arrive at the school to lines of children welcoming them in song and dance. Jeremy says he has a 6-year old son and seeing the kids makes him miss his own son. Justin & Jennifer arrive to the school soon afterward, followed by Laurence & Zac and Andy & Tommy. They chatter about the other sewing task with Sandy saying that, as a nurse practitioner, she sews "bodies but not clothes".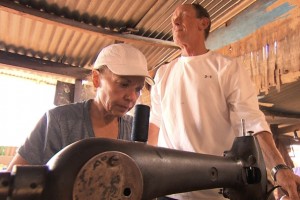 Meanwhile, Bill & Cathi arrive at the tailor to sew a pair of slacks and a jacket, with Ernie & Cindy just having gotten there after being delayed by their taxi driver. A while afterward, Amani & Marcus arrive as the third team to do the sewing task. The sewing machines are not electric, but instead driven by a foot pedal, making those old '60's Singer models look positively modern by comparison. Nonetheless, these machines are well designed for the task, given a skilled operator.
After a little practice keeping the sewing machine going, Cathi is making quick work of it — but with no thread! Oops. Meanwhile, Ernie seems to be doing pretty good at the sewing task after getting the hang of it. Marcus tells Amani he'll do the pants and she'll do the jacket saying, "Watch me granny, I'm about to go to work."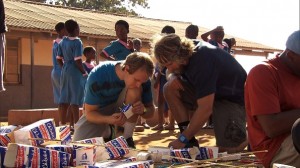 Back at the school, the other four teams are still working on building toy trucks out of rudimentary materials. Laurence seems to want to give up on the task, saying they should go do some sewing (having little idea what that might entail!), but they stick with building toy trucks. Jeremy & Sandy are the first to finish building two toy trucks, both of which pass the inspection test after some kids try them out. They get the next set of instructions, which sends teams to the R-K furniture shop, where hand-crafted furniture is made and sold. From there, they must deliver two bed frames to a remote village where the Pit Stop is located. Justin & Jennifer are just behind them in second place, with Andy & Tommy soon following in third place.
Meanwhile, Ernie & Cindy finish the sewing task first, now putting them in fourth place. Back at the school, Laurence & Zac finish the toy trucks, putting them in fifth place, and then Bill & Cindi finish the sewing to put them in sixth place, leaving Amani & Marcus at the back of the pack, still at the tailor. Their luck gets even worse when their taxi breaks down after they finish the sewing task. Already in last place, they fall even further behind the pack. Marcus is not pleased.
Justin & Jennifer are the first to leave the furniture shop with their two bed frames aboard a pick up truck, with them riding in the back. Andy & Tommy get the next truck, with Jeremy & Sandy wondering how they ended up without a truck to transport their bed frames. Laurence & Zac cluelessly flag down a taxi to transport haul bed frames, which don't even come close to fitting inside the taxi or its trunk. No dice. Ernie & Cindy are the fourth team to make their way out with a truck, followed by Bill & Cathi. Laurence finally chases down a truck driver to haul their load.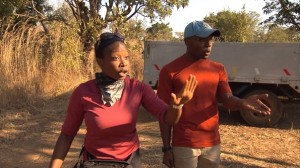 Justin & Jennifer reach the trail head to the village in their truck and then start carrying their bed frames along the dirt foot path. Andy & Tommy and Jeremy & Sandy, who get into an argument while carrying the bed frames, are behind them. Justin & Jennifer arrive at the mat with their bed frames for their first top finish of the Race! Andy & Tommy arrive right behind them. "However…" Phil begins (uh oh!) telling Justin & Jennifer, "I understand you did not pay your truck driver. So you need to go back and fix him up before I can check you in." Oops!
As a result, Andy & Tommy finish in first place once again! They win a trip to the Virgin Islands in addition to all of the other trips they've won so far. Yikes, it'll be like another season of Amazing Race for them. Meanwhile, other teams are unloading their bed frames at the trail head and Bill says, "I assume we have to pay the driver." Cathi responds, "Only if he asks." Oops, again! Cindy tells Ernie that she has paid their driver. Ernie helps Cindy balance her bed frame on her head and then goes to get his bed frame, but she wobbles down the path until… she collapses under the bed frame! Fortunately, it didn't really fall hard on her and it was more of a comical moment than anything else, with Ernie laughing at her and Cindy laughing at herself.
Sixty-two year old Cathi and her husband Bill pass Jeremy and Sandy, as Sandy is having trouble carrying her bed frame. Just as Bill & Cathi approach the mat, Justin & Jennifer cut in front of them after having paid their truck driver and finish in 2nd place. Hmm, as if it made any difference! So Bill & Cathi arrive third a second or two behind them, but they forgot to pay their truck driver and need to go back to pay him first. Right then, Jeremy & Sandy appear to officially finish in third. Laurence & Zac come next in fourth place, with Ernie & Cindy in fifth.
We see Bill & Cathi passing by last-place Amani & Marcus in the opposite direction as they go to pay their driver. Suddenly, it's a real race. Bill & Cathi have more ground to cover, but they are not burdened by their bed frames left at the mat. But Bill & Cathi jog past Amani & Marcus in the same direction toward the village to finish in sixth place.
"Amani & Marcus, you are the last team to arrive," Phil tells them, "how are you feeling right now?" "I'm not ready for it to be over," Amani answers. Phil responds, "You guys are still in this Race. This is a non-elimination leg. You still have a chance to win this Race!"
Will they? Stay tuned!