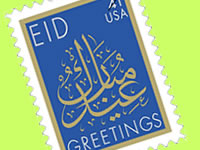 With Eid-ul-Fitr — the three-day holiday signifying the end of Ramadan — approaching soon, many Muslims are getting ready to send Eid greeting cards to their friends and family. And what better way to send them than with the official Eid stamp issued by the US Postal Service (USPS) adorning the corner of the envelope? The stamp, which has been in circulation since 2001, was reissued last week at the new $0.41 rate, just in time for the Eid holidays (the other Eid being Eid-ul-Adha, which occurs later this year and commemorates the hajj).
For those who aren't familiar with the history of this stamp, it is an intriguing one. It all started ten years ago, when Cincinnati housewife Aminah Assilmi started a campaign to have the stamp issued, after a friend's son saw a Hanukkah stamp and asked what the Muslim equivalent looked like.
For the next several years, Muslim children and women's groups sent thousands of postcards and drawings to the USPS in an effort to push the stamp forward. After all, each year the USPS receives 50,000 stamp recommendations, of which only 30-40 become stamps. For years, the campaign seemed like an uphill struggle.

Fortunately, the USPS was persuaded to issue the Eid stamp, and commissioned an elegant design by Muslim-American calligrapher Mohammad Zakariya that tapped into the rich artistic legacy of Islamic calligraphy. After more than 3 years of planning, it was released on September 1, 2001 – just 10 days before the 9/11 attacks on America.
The stamp instilled pride in Muslim-Americans at at time when it was sorely needed, but others saw an easy target for anger over 9/11 and began a nationwide boycott. Thankfully, the boycott went nowhere (Muslims are the primary consumers of the stamps anyway, and all profits go back to the USPS), and the entire initial run of 75 million stamps was sold.
It is a testament to the character of America that such a stamp could be sold alongside others commemorating Christmas, Hanukkah, Kwanzaa, and Thanksgiving, despite the political turmoil of the past six years. No such stamp has been issued in the UK, Europe, Canada, or other countries where Muslims are a minority. To top it all off, the House of Representatives has just unanimously passed a resolution (376-0) commemorating this year's Ramadan.
It is this acceptance and acknowledgement of faith that has, in part, allowed for a healthier integration of Muslims in America and has contributed to a strong spiritual identity that could, inshallah, inspire Muslims elsewhere around the world.