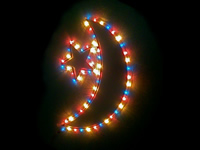 For anyone who has had the opportunity to travel through the Muslim world during Ramadan, you may be familiar with how festive a holiday it is, mirroring in some ways the pervasive sounds and colors of the American holiday season. Ramadan in America, however, is quite different then that. We are still in the process of creating our own uniquely American Ramadan traditions, which reflect our relative isolation, diverse countries of origin, and our predominantly American culture.
As I've learned in the past few years, this becomes even more important when you have children. Growing up in America, we need visual reminders of Ramadan that correlate with the Christmas ones that are so ubiquitous each winter. Some of our traditions are familiar to my parent's generation, such as the festive evening meals enjoyed while visiting the houses of friends and family. But the generation of Muslims that were born or raised here are beginning to cobble together our own traditions, piece by piece.

One friend of mine puts up a small "Welcome Ramadan" sign on their mailbox. Others put up green lights in their windows or on their houses. The now-global phenomenon of Ramadan greeting cards started here in America as well. During high school, I even had occasional late-night suhoor (pre-dawn) meals with friends at the local 24-hour diner. And on campuses across America, Muslim students are holding fast-a-thons for charity.
In the week before Ramadan, I put up Ramadan lights in my children's room, which were greeted with much excitement. Because my sons are too young (5 and 2) to participate in the fast, we have look for other ways to involve them. Perhaps they will help us write our Eid cards to send to friend and family toward the end of the month, or help serve fast-breaking dates when friends drop by for the iftar (fast-breaking) at the end of the day. We hope to distribute gifts to them from family members at the end of the month, which is something I have fond memories of from my own childhood growing up in California.
Small things though they are, they will help shape a healthy Muslim American identity that will carry them through the questions at school and the feeling of isolation they may feel during the Christmas/Hannukah holiday season.