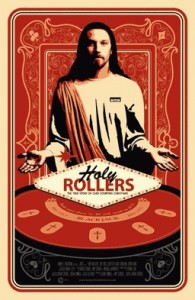 Back in my days as a religion writer for a metro newspaper, I asked some ministers about what I thought was a rather simple question: "If a member of your congregation won a jackpot at a casino, the lottery, or some other gambling payoff and offered part or all of it to your church, would you take it?"
I was surprised, but in retrospect should not have been, at the variety of responses and the level of ethical debate that sparked.
See, as a preacher's kid from a fundamentalist Christian and Pentecostal background, I was pretty sure of the answer. And, that would be "no."
After all, the Roman soldiers cast lots for Jesus' clothing while he hung on the cross. Not a good thing to emulate, right?
The only variance I expected, I guess, was just how much repentance might be required of that no-good, backslidin', gamblin' sinner making the offer.
Only one respondent took that firm "no way" stance, and he wasn't even part of the conservative/fundamentalist family of denominations. In fact, if I recall correctly, he was a Unitarian who had counseled gambling addicts and seen the destruction that malady can cause victims and their families.
The reaction of the other pastors, including usually rigid Baptists and Pentecostals as well as the more "liberal" Methodists, Presbyterians and Lutherans, landed somewhere between the reluctant "no," delivered with a regretful sigh, to reluctantly accepting the offer – in conjunction with prayer and counseling for the sin of gambling – to "Praise the Lord, yes! We're taking the Devil's money and usin' it for the Kingdom of God!"
Me? People do stupid things, all the time. Gambling is one of them. But if someone feels guilty about how they got the payoff and wants to sooth their conscience by giving some to their church or deserving charity, why not?
Don't encourage gambling, of course. But money is money, kind of neutral. A Benjamin can be used to feed the hungry, or pay a hooker; to shelter an unwed mother or recovering drug addict, or to snort a line of cocaine.
So, I make no judgments on the folks who show up in the new documentary, "Holy Rollers." Making its debut at the Seattle International Film Festival, this film follows the blackjack antics of a group of evangelical Christians at they "liberate" Satan's booty from casinos.
In other words, "Hit me, Jesus. Hallelujah, I'm doublin' down for the Lord!"
Click here to visit the film's website to learn more and to view a trailer.