Written By Susan Diamond, Publisher of Prayables, an online spiritual community for people of all faiths.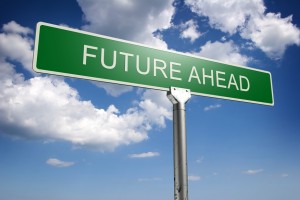 Is There a Future for Religion?
If I hear one more self-righteous matron bitch and moan about the religious morals of young people today, I'm going to smash someone's head. That's not very Christian of me, is it? Then again, I'm not a Christian. But I am "very spiritual" just like the "Nones"
42% Defy Labels
A Pew study made history by introducing a new religious non-affiliation. The Nones; young independent spiritualists who believe in God but don't accept the trappings of organized religion. At least not the type of religion being offered in most churches, synagogues and mosques today.
The End of Religion
From pulpits (and Fox News) we hear that the souls of our children cannot be saved. The future of religion is coming to an end. Yet, I'm online every day and night reaching out to millions of people all across the globe who are "liking" God, "plus one-ing" scripture, and "tweeting" prayers. The median age for my audience? 20-30 something. So there. But why?
Short & Sweet: Yes. Long & Boring: Hell No!
The spirituality we're serving up is short and conveniently located. Need an inspirational hit from Matthew? It's in your newsfeed. Feeling blue? Click through a slide show about "Owning Your Disappointment." It's better than a sermon. Share 30 second bursts of God and your spiritual sweet spot is satisfied. That's what works. Here's what scares young people off.
Old People with Rules
Older people sitting in churches, synagogues, and mosques telling the next generation to follow their rules just doesn't work anymore. It's a new world. A start-up nation of bright young spirits looking to serve God in a new way. It begins where they live: Online. But it doesn't end there. A few progressive religious leaders are getting wise.
The New Way to Engage
Clergy in-the-know are finding their future congregants online and enticing them to join their off-line community. They're offering alternative musical services where the melodies of Mumford & Sons trump Ave Maria. Technology infused study groups with a Simpson's video teaching morals, ethics, and values. Social action projects that appeal to a young person's entrepreneurial spirit.
Alive and Well Online and in Your Neighborhood
The future of religion is being shaped right now. It may not look like it has in the past, but it still looks damn good. Have faith. Religion is here to stay. Clearly present but evolving over time. After all, God is timeless – not stuck in time.