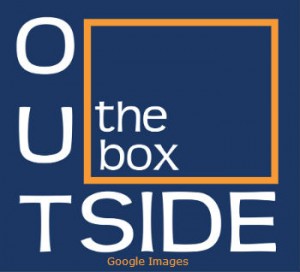 Contributed by Susan Good, Visit Gramma Good at www.grammagood.com
I believe in living my life outside the box. I know many women of all ages don't feel as I do and live inside the box their entire lives. Life inside the box means you're content to live a routine life. You do not have the desire or need to step out of your comfort zone. When given the opportunity, ask yourself, why should I? It takes determination and drive to push oneself out of the box and test new waters when life is so comfortable. Whether you are a daughter, a mom or a gramma, my advice is…give it a try!
Fortunately, I inherited my mother's drive and desire. I live outside the box. I plunge into life. Life is my oyster, as the saying goes. This attitude has made my life far more interesting than most of the women I know. Here is my latest story. It would not be noteworthy, except for the other woman who entered my life by chance…a stranger very much like myself.
I was hobbling, through the most delicious Italian restaurant on my walker, with my leg in a cast. On my way to our table, I passed another table. The man sitting at it stopped me because I was on a walker. Long story short, he informed me that he had a broken ankle too! I met his wife for a brief moment and then continued on to our table to enjoy a fabulous meal of spaghetti with clam sauce.
A few weeks later, as I hobbled into a party on my walker, a very pretty woman approached me. She could have said her hellos and left, but instead sat with me for the entire evening. Who was the woman? She was the wife of the 'man with the broken ankle'! Was it good karma? Yes!
She told me she and her husband live in LA. My husband and I were going to be in LA that weekend. She reached out to me, out of her comfort zone, asked if we could meet for Sunday brunch, and handed me her cell phone number. "Call at the last minute, we're easy," she said. She dared at her age to make a new friendship. She lives outside the box.
I debated whether or not to call. Sunday came and at 9 a.m. I picked up the phone and said 'yes' to this girl I hardly knew. I thought to myself, "it would be so much easier for my husband and I to order in room service and stay in until our event that evening." It was so hard to hobble around and get dressed to meet a stranger. I fought with myself because everything I did was such an effort with my broken ankle. Yet, I just had to pick up the phone and say, "I would love to have breakfast!" Why? Because I live outside the box.
We met for brunch with our husbands at 11 a.m. and parted at 2 p.m. We bonded. Two women. Two grammas who do not need more women in our lives. The only reason for this new friendship …we both live outside the box.
There is a lesson in this blog. When happenstance knocks on your door and you have a chance to have a new experience— dare to live outside the box. You may not want to because it is easier to stay in your routine, but I guarantee you it may prove to be very uplifting in so many different ways, as it was for my newest girlfriend and me.
A thank you to you, mom!
Do something GOOD today: Teach your children and grandchildren to live outside the box through your example. Their lives will be so much more exciting and successful.