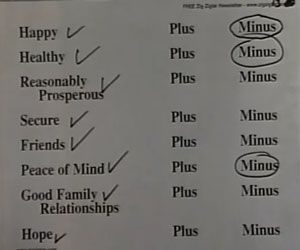 Here's how to evaluate where you are for a purpose centered life. You'll need to create your own chart, work it and evaluate!
CHART
First column:
Happy
Healthy
Reasonably Prosperous
Secure
True Friends
Good Family Relationships
Peace of Mind
Hope
The next two columns are simple:
Plus and Minus
WORK IT!
Ask yourself questions about whether you are happy, healthy etc. and whether you have true friends, good family relations etc.  Give yourself a plus or minus. Take a look at the results and you'll be able to see where you are. Maybe you have more pluses than you thought. Or do you have areas that need improvement?
EVALUATE
The purpose of your life is to have purpose. There is no greater measure than to reflect on the eight pillars of purpose. Turn it on— be happy, healthy, prosperous, and secure. Enjoy good friends and family relationships. Achieve peace of mind with the hope you find within.
Thanks to Lucinda Cross for her observations on "Purpose Centered Living" and Zig Ziglar for "Evaluate Where You Are."