Daily Video
Today's Prayable pick is not inspiring music, but motivational advice from the master of all things inspirational – Zig Ziglar! Zig gives us the straight talk he's famous for and makes a case for living a purpose centered life. Evaluate where you are and get started rocking the eight pillars of purpose: Happiness, health, prosperity, security, friends, family, peace of mind and hope.
http://www.youtube.com/watch?v=LBpVZ5hPFRs&feature=results_video&playnext=1&list=PL51B2B9FA8737D4A4
How to Evaluate Where You Are
Create your own chart, with three columns.
First column:
Happy
Healthy
Reasonably Prosperous
Secure
True Friends
Good Family Relationships
Peace of Mind
Hope
The next two columns are simple:
Plus and Minus
Ask yourself questions about whether you are happy, healthy etc. and whether you have true friends, good family relations etc.  Give yourself a plus or minus. Take a look at the results and you'll be able to see where you are.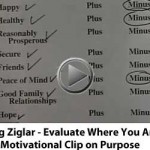 READ MORE and Enjoy these features from the Daily Prayable!