A pregnancy care center in New York City across from the Planned Parenthood clinic in the South Bronx was "virtually destroyed" by vandals Thursday night.
Wood flooring and plaster in the center were chopped into bits. Clothing, models of unborn babies and other outreach materials were overturned and strewn across the floor.
According to Chris Slattery, who heads up the EMC Frontline, a chain of pregnancy centers to which the South Bronx center belongs, vandals broke into the building through the second story window, stole over $5,000 worth of equipment, and "virtually destroyed the office."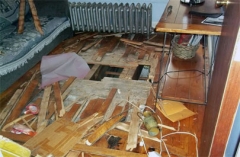 "The rampage of these heartless criminals shattered windows, stole all of our audio visual equipment, destroyed displays and supplies, tore up the ceiling, doors, and floor," he said. "They even broke into our supply closet and stole our Pampers."
Was the destruction intentional? Or was the crime was perpetrated by drug addicts seeking some quick cash? Why would they do such destruction? Would burglars tear up the floor? Perhaps.
"We're in a warzone," Slattery told John Jalsevac of LifeSiteNews.com. "We're in the South Bronx."
Adding insult to injury, when the staff reported to work, there was construction going on in the street outside the office, and so the pregnancy center was without electricity and heat as they attempted to repair the damage.
Despite the conditions, counselors still managed to counsel one woman, Slattery said.
The now have put a large piece of plywood wood across the hole in the floor and put a rug over it — and are back open for business.
"The staff in our Bronx office is heartbroken, but they have all pulled together to put together the pieces," he said.