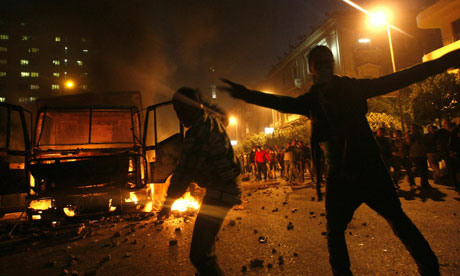 At the height of Egypt's recent riots, on the evening of January 29th, Egypt's "Day of Rage," many businesses, shopping malls, vehicles and police stations were vandalized and destroyed.
But the head of the Egyptian Bible Society says the "Night of Rampage" turned into the "Night of Miracles."
"A bunch of hooligans approached the Bible House in the middle of the night," recalls Ramez Atallah. The Bible House is the headquarters of the Egyptian Bible Society. "Our security guard had fled."
However, he says, almost with wonderment, "the Muslim neighbors guarding their homes told us that they were preparing to protect our beautiful building."
That's miracle number one.
"Suddenly, for no apparent reason," says Atallah, "the gang stopped in their tracks and returned from whence they had come!"
That's miracle number two. 
What turned the rampaging thugs around? "The neighbors were convinced that this was divine protection of the Bible Society and told us so!" he recalls.
And that's miracle number three.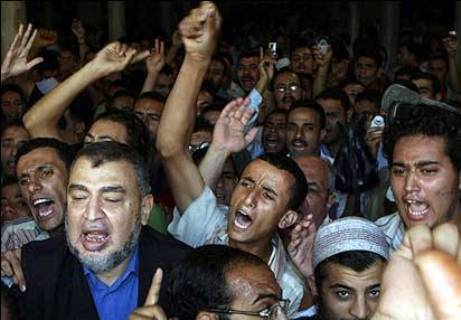 Was he in personal danger? No, he says. He and his family had put themselves into God's hands. They stayed indoors — and had gone to bed! "We were sleeping at the time," he admits almost sheepishly, "but undoubtedly some of you, in different time zones were praying for us!"
Please continue those prayers, he requests. "People feel empowered; they have broken the bonds of fear from a totalitarian system," he says. "Much goodwill and unity has been expressed. However, some costly damage has been done like the stealing of valuable archeological treasures from the Cairo Museum, the destruction of many government properties and the escape of many prisoners. 
"There are also dozens of strikes and demonstrations by varied groups of society who believe they were unjustly treated by the previous regime and now feel free to demand their rights.  All this continues to create a feeling of insecurity among many. On the positive side there is a massive, spontaneous 'clean up' campaign going on in which Christians and Muslims of all classes of society are working together to clean up and rebuild Cairo and other cities across the nation.
"I am sure you can imagine that with the country having come to a standstill for 18 days and with most foreigners (including businessmen and tourists) having left, it will take a lot of time and effort to restore Egypt to the economic stability we had begun to enjoy during the last year."
Is he safe? Atallah speaks cautiously, choosing his words carefully. "The present situation is extremely complex.  It seems obvious to me (but not to many others) that the kind of 'democracy' which could eventually be achieved by this revolution will be within the framework of a country whose main ideology is based on unwavering loyalty to a major religion."
Egypt is 90 percent Muslim.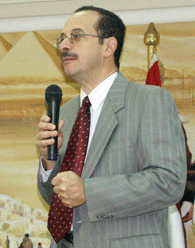 "There will, hopefully, be much more freedom of expression and a more democratic governing system," he says. "But like all the nations in our region, there will still be restrictions for us as Christians which we will not be able to easily ignore."
Indeed, under Muslim shari'a or religious law there is no equal protection under the law as in the United States. No "everyone is created equal." Instead, Muslim men have the greatest rights. Muslim women have fewer rights — but more than the men, then women who are "People of the Book," a category into which shari'a places both Christians and Jews. With even fewer rights are "polytheists," such as Hindus.
"While most Christians are encouraged by the 'winds of democratic change,'" says Atallah, "many others fear that the well-organized Muslim Brotherhood could win in a free election, and that if this happens the status of Christians in Egypt might be worse than before.
"Many believers in Egypt are used to equating God's blessing with physical comfort and even prosperity.  Most expect a relatively peaceful life, and are not equipped to handle difficulties within a Biblical framework.  Some Christians have not hesitated to flee the country, while many of those remaining wish they could leave as well."
Does he intend to flee Egypt? No, he says. He has a mission — to spread the Gospel, even in a country where evangelism is illegal and converting to Christianity has serious consequences.
"The Christian faith was born in unstable political circumstances and has usually thrived most when threatened," he points out. "Our vision at the Bible Society of Egypt is to take a deliberate role in affirming to Christians of all classes and persuasions basic Biblical truths.
"We are on the precipice of opportunity, and feel that there is an incredible spiritual gap that must be filled. 
"The Bible Society is in a strategic position to address the whole church (Orthodox, Catholic and Protestant). 
"Our urgent desire is for the Word of God to speak.  We cannot fail to seize this opportunity to share the relevance of God's Word during this momentous time in Egypt's history."
He does ask for your prayers.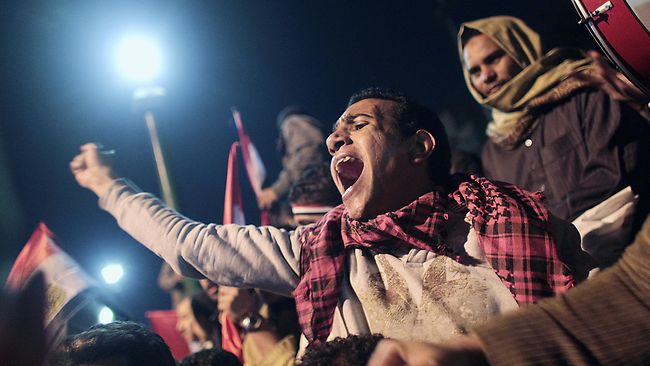 "Pray for wisdom and creativity as to how to provide the appropriate message," he says. "We are planning several strategies: a nationwide public media campaign featuring Biblical values which resonate with the revolution's aspirations, a series of small, printed leaflets or booklets, a general newsletter aimed at all Christians in Egypt, and short audio and audio-visual clips which, like the parables of Jesus, will convey powerful messages from the Bible right to people's hearts."
In a conversation with the Christian Broadcasting Network, Atallah said that the recent elections — which legalized the extremist Muslim Brotherhood — may work together for the good.
"Working under tighter constraints (in a more Islamic Egypt) may actually make Christians more committed to their faith and their Lord," he told CBN. "For example, in spite of the remarkable freedom in Western countries it's not necessarily easier for Christians there to be on fire for the Lord. Let us never forget that the Apostle Paul's deepest yearning was 'to know Christ and the power of his resurrection and the fellowship of sharing in his sufferings' (Philippians 3:11).
"We often want the former and forget the latter."