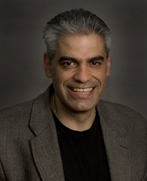 A banner week for Latino Catholics, and Barack Obama. The new U.S. ambassador to the Holy See (replacing Mary Ann Glendon) is a Cuban-born, 45-year-old associate professor of theology at St. John's College in Collegeville, Minn.
As Fr. Jim Martin at America magazine notes, he's also a Rahner scholar, which means he and Benedict XVI could have some "lively Rahner-Balthasar discussions."
"The choice is also refreshing: the nomination is clearly going to a talented and faithful Catholic (like Mary Ann Glendon), rather than a straight political appointee, and it is also going to someone who clearly understands not only the Vatican but also Catholic theology at the highest levels. Professor Diaz has also taught at a regional seminary, which means he's been vetted by at least a few bishops."
From the St. John's College announcement:
"Professor Miguel Diaz is a skilled Trinitarian theologian who is passionate both as a teacher and a scholar," said Abbot John Klassen, OSB, of Saint John's Abbey. "He is a strong proponent of the necessity of the Church to become deeply and broadly multi-cultural, to recognize and appreciate the role that culture plays in a living faith. Born in Havana, Cuba, he is a leading Hispanic theologian in United States."

He earned his bachelor's degree from St. Thomas University in Miami, Fla., and his master's and doctorate in theology from the University of Notre Dame in Notre Dame, Ind. He taught previously at Barry University, Miami Shores, Fla.; St. Vincent de Paul Regional Seminary, Boynton Beach, Fla.; University of Dayton, Dayton, Ohio; and the University of Notre Dame. He also served as the academic dean at St. Vincent de Paul Regional Seminary and is fluent in Italian, Spanish and French.

"The College of Saint Benedict is enormously proud that Miguel has been nominated by President Obama for this important post," said MaryAnn Baenninger, president of the College of Saint Benedict. "Miguel is a highly-respected theologian and scholar, and an excellent teacher. Most importantly, he has a deep commitment to Catholic social justice and to inclusiveness in the Catholic Church. He truly lives a life of faith. He is the ideal candidate for this post."
At NCR, Michael Sean Winters writes:
The immediate takeaway is this. Diaz is a pro-life Democrat so his mere presence at the Vatican will disprove the contention of some conservatives that there is no such thing as a pro-life Catholic [Democrat, I think he means]. If he can articulate the President's commitment to reducing the abortion rate, those in the Vatican who appear disposed to like the President will have more ammunition when Deal Hudson, George Weigel and Co. attack L'Osservatore Romano for their pro-Obama line.
Diaz was an advisor to Obama and the AP's Eric Gorski has this:
In an interview with Catholic News Service at Obama's inauguration, Diaz said he was looking forward "to moving beyond the politics of fear to the politics of hope." He said Obama was "committed to working" with people who defend "life in the womb" and deeply respects people who hold positions he does not agree with.

"Wherever we can, we should advance life at all stages," Diaz said.

Reached at his home Wednesday, Diaz read a brief statement expressing gratitude for the opportunity and saying, "I wish to be a diplomatic bridge between our nation and the Holy See, and if confirmed by the U.S. Senate, I will continue the work of my predecessors and build on 25 years of excellent relations with the Holy See."

He declined to answer questions about his positions on issues, saying it would be inappropriate before his confirmation hearing.

One potential point of conflict is Diaz's support for the nomination of Health and Human Services Secretary Kathleen Sebelius, a Catholic whose abortion rights record angered conservative Catholics. Diaz was among 26 Catholic leaders and scholars who signed a statement hailing Sebelius as "a woman of deep faith" and citing her a record on immigration, education, health care and reducing abortion rates in Kansas.
The question now is whether Diaz can be in place to assist should Obama meet with the Pope during a planned July visit to Italy. I don't see how the White House could miss that chance, but that's a fast turnaround for an ambassador.
But a theologian as ambassador to the Holy See–never seen that. Be a tough move to critique.