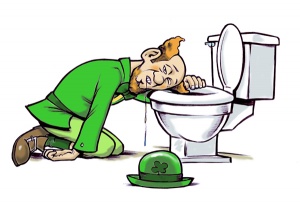 At BustedHalo, Mike Hayes–son of Irish immigrants, he knows from Irish, tells you how, with five ideas. Before anything, of course, avoid green beer. But who would drink that anyway? You'd be sure to wind up driving the porcelain bus like the leprechaun over here (courtesy of the RNS blog).
Mike also has a great recipe for a great Irish breakfast. Too late today, perhaps. Though it's good most anytime, I'd say. But clip and keep it for the weekend. He goes on to suggest Irish films, literature, and he has an excellent suggestion on pilgrimage. The best is for last:
Soul Friends and hospitality: In a sense, the Irish invented the modern practice of spiritual direction. Celts had a soul friend, anamchara — a companion on the spiritual journey. They also may have been among the first to practice individual confession.Celtic communities had a mandate of hospitality for all. Everyone was welcome and included as family. Kinship ties were highly important, and the great stories often passed down from parent to child in an oral tradition. While most were illiterate, memorization skills were cultivated so that, through these stories, knowledge could be transmitted throughout the community.