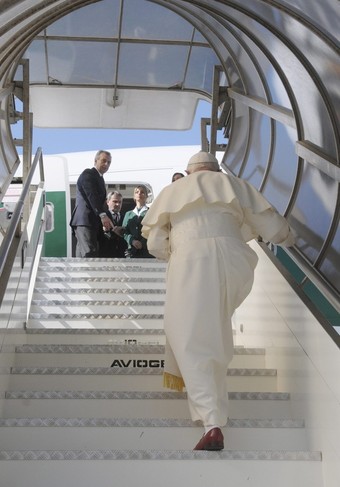 During the in-flight newser to Cameroon for his first African trip, Benedict XVI responded to six questions, one regarding the urgent issue of AIDS in Africa. His response, via CNS:
"One cannot overcome the problem with the distribution of condoms. On the contrary, they increase the problem," the pope said.

Nor can the AIDS pandemic be confronted only with aid programs, he said.

What the church teaches, he said, is "humanization of sexuality" and sexual responsibility on the one hand, and a willingness to be present with those who are suffering, on the other hand.

He pointed to the many church programs currently helping AIDS victims and said the church's contribution had led to real and visible progress.

The U.N. office monitoring the pandemic reports some 22 million Africans living with HIV, the virus that causes AIDS; that number represents about 67 percent of all HIV-positive people in the world. The office also reported that 74 percent of all AIDS-related deaths in 2007 occurred in sub-Saharan Africa.

Church officials estimate that Catholic institutions and programs provide about one-fourth of all health care to AIDS victims.
Any science to back up the pope's claim?
BTW, the first question asked of the pope was whether he is too isolated, as many have suggested in the wake of various recent "communications" gaffes:
"I have to laugh a bit about this myth of my solitude," he said. "In no way do I feel alone. I am really surrounded by friends, close collaborators, bishops and laypeople."
(Pope Benedict XVI boarding his Alitalia charter via Rocco.)