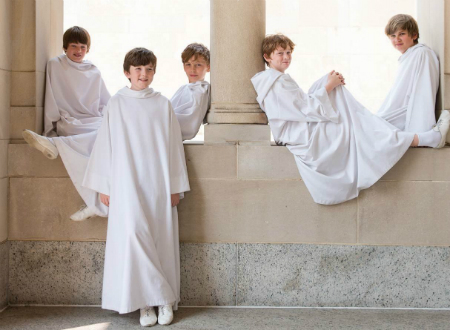 In January of this year, the boy choir, Libera, recorded a live concert at Basilica of the National Shrine of the Immaculate Conception in Washington D.C. for the upcoming PBS special, Angels Sing: Libera in America. The soundtrack of the special is now available on DVD as well as CD.
Like Charlotte Church and The American Boychoir (who have sung with Michael W. Smith), Libera is, as the press release describes, a "celestial-sounding, chart-topping boy choir." However, despite their polished performances and their angelic voices, they look more like Dennis the Menace in a choir robe. The cover of the both the DVD and CD feature the boys being boys with messy hair and dirty shoes. The DVD features both the television special as well as a "behind the scenes" short, which was a disappointment as it missed the opportunity to really show who these boys are when they are not performing. Instead, we just get a glimpse.
As for the performance itself, the guys are a bit stiff. Of course, this has a lot to do with reverence of the material of what they are singing and where they are singing it. However, in-between numbers, a few of the boys introduce themselves and share a little bit about the songs they sing. The delivery is so scripted and the mild jokes so forced that it doesn't sound genuine. Fortunately, it doesn't take anything away from their performance.
The DVD and CD both feature the same song line up, so there really isn't any reason to purchase the DVD over the CD if you are just interested in the music itself. Not every song is religious in nature either. In addition to hymns, the boys pay tribute to the USA with "America the Beautiful," sing the Louis Armstrong classic, "What a Wonderful World" and even Cat Stevens, "Morning has Broken."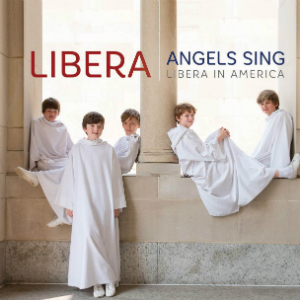 The full list of song selections include:
Joyful, Joyful We Adore Thee
How Can I Keep from Singing
Morning has Broken
America the Beautiful
Wayfaring Stranger
Amazing Grace
What a Wonderful World
The Prayer
Be Still My Soul
How Great Thou Art
Rest in Peace
Sanctus
Song of Life
Ave Maria
Voca Me
How Shall I Sing that Majesty