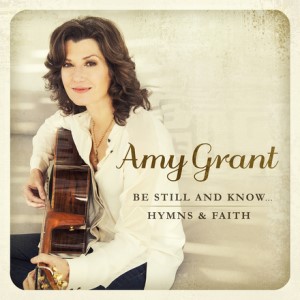 After years of being relatively quiet, Christian music star, Amy Grant, has made up for it. In 2013, she released "How Mercy Looks from Here" that featured special duos with Vince Gill, James Taylor, Sheryl Crow and others. Last year came "Amy Grant in Motion: The Remixes," which featured new dance music spins on some of her more popular music including "Baby, Baby" and "Every Heartbeat." This month comes "Be Still and Know…Hymns & Faith."
"Hymns & Faith" features many tracks from previous albums including "Legacy…Hymns & Faith," "Rock of Ages…Hymns & Faith" and "How Mercy Looks from Here." Grant is not usually considered a country singer, but when you put all of these tracks together, including two new ones produced by her husband, Vince Gill, this is definitely a country album. However, with that said, Grant does some nice contemporary touches including a slightly faster tempo to the music making the "old" hymns sound new. The best example of this is "This is My Father's World."
"Power in the Blood" and "Be Still and Know" are the two new tracks. "Power" will no doubt be favorite as it is fast-paced and has a bluegrass sound to it. Just about impossible not to slap your knee while listening to it. "Be Still" is a peaceful reminder that sometimes it is best to just sit, be quiet and let God do his thing.
The best song on the album by far is "Deep as it is Wide" which features Sheryl Crow and Eric Paslay. The three voices harmonize beautifully. The album also features the Grant standard, "El Shaddai."
While most Amy Grant fans will be able to appreciate this album, it is a safe bet that only those truly fond of hymns and country music will enjoy it the most.
This collection features these 15 songs:
1. Power In The Blood
2. Be Still And Know
3. Jesus Take All of Me (Just As I Am)
4. Rock Of Ages
5. Carry You
6. This Is My Father's World
7. El Shaddai
8. Joyful, Joyful, We Adore Thee
9. It Is Well With My Soul/The River's Gonna Keep On Rolling
10. My Jesus, I Love Thee
11. Deep As It Is Wide
12. What A Friend We Have In Jesus/Old Rugged Cross/How Great Thou Art
13. 'Tis So Sweet To Trust In Jesus
14. Softly And Tenderly
15. Holy, Holy, Holy