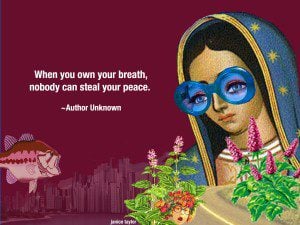 I was working with a client this morning who happened to be having a particularly tough day. She was suffering. As we did our best to unpack, look at and ultimately work through her suffering; she let it go, which left her free to enjoy her day!
Here…
10 Simple Steps: How to Survive a Tough Day
1. Keep Going!
If you're going through Hell, keep going. – Winston Churchill
2. Let Go of Your Worries!
Don't let your mind bully your body into believing it must carry the burden of its worries. – Astrid Alauda
3. Stop Resisting!
Pain is a relatively objective, physical phenomenon; suffering is our psychological resistance to what happens. Events may create physical pain, but they do not in themselves create suffering. Resistance creates suffering. Stress happens when your mind resists what is… The only problem in your life is your mind's resistance to life as it unfolds. – Dan Millman
4. Use Your Angry for Something Positive!
In times of great stress or adversity, it's always best to keep busy, to plow your anger and your energy into something positive. – Lee Iacoca
5. Watch and Choose Your Thoughts Wisely!
The greatest weapon against stress is our ability to choose one thought over another. – William James
6. Breathe!
Stress is basically a disconnection from the earth, a forgetting of the breath. Stress is an ignorant state. It believes that everything is an emergency. Nothing is that important. Just lie down. – Natalie Goldberg
7. Stand Up!
Fall seven times, stand up eight. – Japanese proverb
8. Hang In and Hang On!
When you reach the end of your rope, tie a knot in it, and hang on. – Thomas Jefferson
9. Sing Your Song!
A bird doesn't sing because it has an answer, it sings because it has a song. – Maya Angelou
10. Live NOW!
You don't get to choose how you're going to die. Or when. But you can decide how you're going to live now. – Joan Baez
For less suffering and more living, join Our Lady of Weight Loss's KICK in the TUSH Club/FB!
Spread the word–NOT the icing!
Janice
Sign up for the KICK in the TUSH CLUB monthly e-newsletter, sign up here.
To join the FACEBOOK/KITT Club, click here!
For one-on-one coaching, contact Janice!