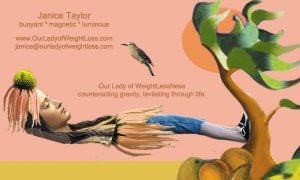 This past weekend (yes, Memorial Day Weekend), Our Lady of Weight Loss and I headed to the beach. It was too cool for a swim, for sure, and too traumatic to step into a bathing suit, for sure. For both of us. Even though, I permanently removed over 50 pounds over a decade ago (that's right…we're talkin' permanent fat removal), the thought of wearing such a small garb pushes my buttons, if you know what I mean.
So, we (OLofWL and I) sat on the sand, and together we watched the tide going out and in and out again, and in sync with the tide we took in deep cleansing breaths. On the in breath, we experienced our bodies, and on the out breath we transformed those feelings, thoughts, experiences into poetry. Breathe in experience; breathe out poetry.
And then we discussed how to buy and wear a bathing suit, minus the trauma. We came up with a few solid tips to share with you now, before the extreme heat hits. We like to be prepared!
Bathing Suit Trauma.
How to buy and wear a bathing suit; feel good and strut your stuff without going off the deep end.
1. Do NOT Go with the Latest Style. Mix and match and find what works best for you!
2. You Look Better Than You Think. I promise, you do! Most of us have an inaccurate read on how we look.
3. Wrap It. If you are truly uncomfortable, wrap your waist in some fashionable cover-up.
4. Mirror. When you are looking in the mirror, zero in on a favorite part of yourself. Maybe it's your eyes, or your lips … your soul!
5. Remember. You are not alone in this craziness. Both Our Lady of Weight Loss and I are with you every ounce of the weigh!
For (almost) daily motivational musings
and the lightest WeightLessNess tips ever, from our country's premiere Anti-Gravity Coach, Janice Taylor (that's me), join Our Lady of Weight Loss's Kick in the Tush Club/FB!
For the full skinny as well as Anti-Gravity Specials, sign up for Janice Taylor's Kick in the Tush Club newsletter!
Levitate through Life with Me…

Janice Taylor, Anti-Gravity Coach™, Positarian, Author, Artist
buoyant * magnetic * luminous
——————————————————————————-
For the best life, wellness and weight loss wisdom,
visit Janice: Our Lady of Weight Loss
Sign up for the Kick in the Tush Club e-newsletters