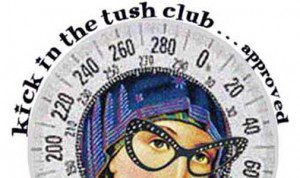 Greetings Tushkateers, I have some mind-blowing news for you. Are you ready? Sitting down? Okay…take in a deep breath and dig this: you are not a noun. You are not a thing. Rather, you are a person who does things.
You read, you stretch, you laugh, you cry, you love, you feel, you eat (oy vey, sometimes too much). Therefore, you are a verb.
In fact, you are an action verb. Take that in on a cellular level, please, because thinking of yourself, experiencing yourself as a noun is intrinsically sticky, as it is likely to create stuckness, as in you are a stationary noun standing in one place, at a standstill, lacking movement. Stuck!
I, too, am an action verb, and I am once again verbing into reinvention! My last major overhaul was 12 years ago. Back at the turn of the century (more or less)! That's when I decided to permanently lose 50 pounds of excess weight, change my look, change my way of being, think new and improved thoughts, leave the corporate world and be the me that you all know and hopefully like, if not love 🙂
I am once again, actively, purposefully verbing into the next phase of verby-me. I am in Tucson (vs. New York City). Instead of walking Central Park, I am hiking the Catalina Mountains, creating muscles in my thighs as I climb uphill all the way (slowly but surely). Instead of working entirely from home, I manifested an art studio/writing space off premise (downtown Tucson). (Photos to come, I promise, after the next phase of studio design.)
I am not stripping away my entire identity. I am still your Life and Happiness Coach (weight loss expert), lovin', lovin', lovin' working with y'all (scroll down for free consult info). I continue to be married to my best friend, Peter (closing in on 27 years). I continue to be mother to the two best kids ever. BUT my daily actions are morphing into something new and exciting, taking me to someplace … not sure of the specifics, but I feel the tingling of 'new, exciting' around me, running through me, fueling my verbness.
So…pretty please with a cherry on top, VERB with ME! Yes, that's right, YOU VERB with ME!
Life is Change. Change is Life. Conscious change is better than unconscious change. What VERBING do you want to endeavor? How does experiencing yourself as the true VERB that YOU ARE change your perspective?
Please (lots of polite pleases in this post) go to KITT Club/FB and let's discuss VERBING!
Spread the word–NOT the icing,
Janice Taylor, Life & Happiness Coach, Author, Artist, Positarian
wise * fun * utterly useful
———————————————————————————-
For the best life, wellness and weight loss wisdom, visit Janice:
Our Lady of Weight Loss
sign up for the Kick in the Tush Club e-newsletter