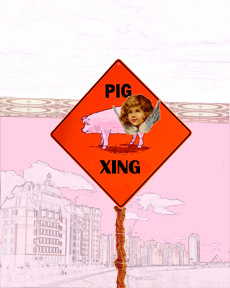 What???? HUH?
Is
Janice Taylor, Weight Loss Guru, the voice of Our Lady of Weight Loss, 50-pound big-time-loser, Beliefnet health & happiness blogger extraordinaire
telling us that it's okay to pig out?
"You have to love a nation that celebrates its independence every July 4, not with a parade of guns, tanks, and soldiers who file by the White House in a show of strength and muscle, but with family picnics where kids throw Frisbees, the potato salad gets iffy, and the flies die from happiness. You may think you have overeaten, but it is patriotism."
~ Erma Bombeck
4th of July Food: PIG-OUT
OWN IT. You've been wrestling with, thinking about, and tasting the idea of NOT pigging out this 4th of July weekend. It's been your focus all week long, has it not?
THINK ABOUT IT. You manifest what you focus on. In other words, by thinking about NOT pigging out, you are destined to pig-out.
WHAT TO DO. Give yourself permission to PIG OUT. One BBQ, one meal, one day … not even one pig-out weekend doth a fat-person make. I can pretty much guarantee that if you are not fighting the forces of evil, pushing the devil food away, you will at the end of the day find that you have eaten less than you would have if your mind held on to and kept repeating, "I am NOT going to pig out."
WHAT NOT TO DO. Do NOT use this one weekend of indulgence as an excuse to fall off the wagon and take a 10-year detour! Do NOT beat up on thyself!

HOG WILD vs. PIGGING OUT.
There's a difference between pigging out and going hog wild. Pigging out has a playful, light, and fun quality to it. If you like, you can even wear something pink! Hog Wild, on the other hand, is NOT pretty. Hog Wild means you have gone weigh too far, into the dark side.
ALL IS FORGIVEN, MOVE ON
! If you went past Pig Out straight into Full Tilt Hog Wild, forgive yourself and move on … move on … move on … NOW! Into your 'lite.'
Spread the word, not the icing!
Janice
Summer Time Recipes
Leave Your Bun Behind
Burning Down the House
Listen in and Lighten up! Janice Taylor On the Radio
After You Fall Off the Diet Wagon…
Hey! Where did that 50 pounds come from?
Tough Love
For more hot diet tips, join the
Kick in the Tush Club community
NOW!