My elderly father succumbed to a stroke. Then bed bugs arrived in the house I just completed decorating. The creepy, blood-sucking insects infested again and again. Thirdly, a new friend turned postal…frightening me with her behavior.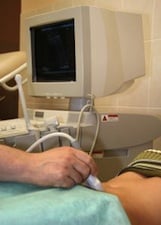 My world teetered dangerously out of control.
In the midst of chaos on multiple fronts, I faced realities I'd successfully avoided:
1) Life is short.
2) I possess a calling. A dream deep in my soul that represents what I've been created to do.
3) I cannot maintain control of my life and be led into my calling. Something has to give: Me as the Boss-in-control-maintaining-safety-and-order OR Me as a dreamer-called-out-one led by God into her true purpose. My calling is an invitation—to a path, not plan.
4) I'm a planner. What can I do?
Two years later I sat down and wrote a memoir recounting this time in my life. I depicted the struggle in my soul—my contending with God—as a screen play. Here is a section from Chapter Three, The Battle:
Play: Gloria's Divine Comedy
Place: Cosmic Stage
ACT ONE
SCENE SIX
The curtain rises on a dimly lit stage. It is nighttime. GLORIA lies on a small bed in the middle of a living room. THE ALMIGHTY speaks from the rafters.
THE ALMIGHTY
I heard you saying, "Why is life so hard?"
GLORIA
I'm sorry, God. Really. I know my life is a lot better than most people's lives. I could be begging on the streets of Calcutta or homeless in New York—
THE ALMIGHTY
[Interrupting.] We're talking about the real you and your real life.
GLORIA
Yes, I'm trying to be grateful for what I have.
THE ALMIGHTY
Then let's start there. What do you have? What do you have that's permanent, solid, for certain, now and forever…Amen? What?
GLORIA
[Gazes into the darkness, thinking.]
Smiling people gather downstage center. They carry signs with the words, "Career, Retirement Fund, Family, Friends, House, Health."
[Sigh.] Forever?
THE ALMIGHTY
Yes. Forever.
GLORIA
That's easy. Nothing lasts forever.
THE ALMIGHTY
Really, Gloria? Nothing?

GLORIA
Well, YOU, of course.
THE ALMIGHTY
You're dodging the question.
GLORIA
[Frustrated.] I don't know what you want. This is depressing. Nothing I pursue on a given day lasts forever. I get it. You've made your point.
THE ALMIGHTY
Dear one, that's not my point at all. I'm asking you to acknowledge what you do have that lasts forever. What has been there ever since you can remember and in your heart you know it will never end?
GLORIA
[Hesitantly.] Well, the only thing that's been there ever since I can remember is me.
THE ALMIGHTY
And tell me how you see it—are you going to come to an end? Will Gloria cease to exist one day?
GLORIA
I don't think so. It's weird—I have this sense I'm going to live forever. That would be nice, anyway.
THE ALMIGHTY
Now we're getting somewhere. It's you, your soul—with your heart at the center.
That's what you have, Gloria. [Jubilantly.] Your heart and soul are the most wonderful parts of you. The parts that make me proud and happy.
GLORIA
Really.
THE ALMIGHTY
Really.
GLORIA
[Pondering] So the hard stuff in life is meant to remind me nothing lasts except my heart and soul.
THE ALMIGHTY
[Silent. Waits.]
GLORIA
Fine. I get this too, God. Nothing lasts. Thanks for the reminder. I guess I fool myself into thinking what I'm doing down here matters somehow…
ALMIGHTY
YES—a zillion times YES—it does matter. You and the dream in your heart are critical. So much is at stake.
GLORIA
Excuse me, God, but what the heck could be lost or gained—with my little dream?
THE ALMIGHTY
Don't you see? Your heart is where I am, where we're conversing right now and where your dream lives.
I connect with people in their heart. I change individuals, heal nations and evolve the planet via human hearts. Your dream is your part to play. It's your place in the action, your role in the battles I'm waging to restore the earth. Can you see this?
GLORIA
Well…now that you explain things, I see why I've been so unhappy lately. I've been focusing on making myself safe while you are trying to draw me into battle.
Some type of cosmic fight for human hearts.
THE ALMIGHTY
Well said, dear one, well said.
GLORIA
Huh. I guess that also answers my question, "Do we want the same thing?" On the one hand, I want you and the dream you've given me, and, on the other hand, I don't. Part of me wants my life to be…predictable…under control…my control.
I guess there's a war going on in me too.
THE ALMIGHTY
What are the two sides?
GLORIA
One side of me wants predictability and control. The other… [thinking]…the other wants to rise up, be courageous and jump into the hottest battle with you. I want to be the most love-filled, clear-minded, lion-hearted, awesome Gloria I can be.
I see me slamming truthful words down on the page and getting it out there to every corner of the world. Swish, clang, ta da! Watch out, here I come—God's warrior!
THE ALMIGHTY
Yeah!
GLORIA
[Soberly] The problem is…
THE ALMIGHTY
Yes?
GLORIA
I'm not often warrior-like. I've got much more experience being on the sidelines. Cheering others on. I know things will work out in the end.
I don't see myself as needed on the front lines.
ALMIGHTY
What are you afraid of?
GLORIA
I've already lost my mom and dad as my support system. I'm losing the home I just completed furnishing.
If I bolt in some new direction, I'll lose my career and business reputation I've worked two decades to establish.
My car is getting old.
I'll for sure lose the approval of my brothers and sisters. They'll think I'm being irresponsible to pursue my calling. They'll advise me to wait until my retirement fund is stronger.
No one will understand. Or wish me well.
Bottom line? To start walking toward my dream feels like jumping off a cliff.
I'm truly sorry to disappoint you, God.
I don't do cliffs.
—Gloria Rose in Worth Living For: Tragedy, Comedy and the Battle for my God-given Dream
– – – – –
You don't need me to tell you that fear held me back. Kept me from pursuing my calling. It's pretty clear, isn't it?
But this scene is not the end of my story. It is only the beginning of me starting to release control and walking toward something better: Love.
I ultimately decided to trust the love of God for me. Just a little. And take a step forward with Him leading me. Just one step.
Now I'm three years down the path. I trust more. Dream more. Do more of my calling.
What about you?
What holds you back?
– – – – –
photo credit: stock.xchng
– – – – –
Dear Reader, thank you for visiting ON FIRE. Your input–ideas, questions, are comments are treasured.
Gloria
gloria@gloriarose.com