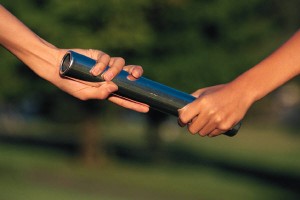 Your gift is an insight wrapped in talent and shared with others.
"But who are my others?" you ask. "I've tried giving my gift. No one wants it."
Perhaps your gift is mediating conflict. Your insight into human personalities and communication styles gives you the ability to bring people together who seem very far apart. You've offered to play that role at your job, but the Human Resources Department turns a deaf ear.
Or you restore furniture. You can take a table, broken and abandoned by the side of the road, and remake it to fit in a palace. The few pieces you've placed on consignment in a boutique downtown aren't selling.
Turn around.
Your audience most likely isn't the people you run with. Not the professional, rich, privileged, fee-paying, famous, well-networked people who can make your time and effort worthwhile financially or further your reputation.
Your "others" are folks who have less than you. Who can't pay you back.
Who has:
-Less access
-Less support
-Less freedom
-Less money
-Less education
-Less opportunity
-Less status
-Less hope for the future than you?
Think: the poor, elderly, imprisoned, laid off, disabled, stuck, discriminated against, newly immigrated, or under-utilized.
Right now, you may not know any of these types. They are your others, nevertheless. They need you – and you need them.
A popular page on facebook shows a photo of Anthony Cymerys, a barber.
He's 82 years old. Every Wednesday, he brings his chair, his clippers, and a car battery to power the clippers to a local park in Hartford. He then gives haircuts to the homeless. He doesn't charge them a dime. All they have to do is give him a hug…
Anthony has found his others. He's not making money or furthering his barbershop clientele. But he's being paid back in ways that can't be counted.
You will too. Don't give up. Keep looking.
– – – – –
Have you found your "others," the audience for your Gift? I'd love to hear about it. Email me: gloria@gloriarose.com.
Thanks for stopping by ON FIRE. You input and comments are welcomed.
– – – – –
photo credit: Microsoft clip art