The billboards are quite startling: The profile of Barack Obama gazes upon the words: "Every 21 minutes, our next possible leader is aborted."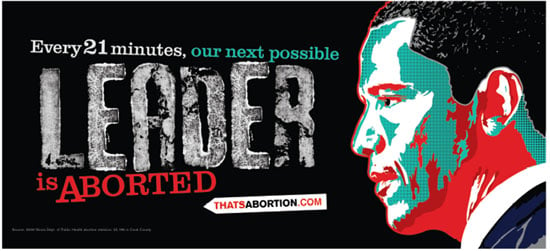 Thirty signs began going up around Chicago on Tuesday. Why?
"Our future leaders are being aborted at an alarming rate," Life Always, Inc., board member Derek McCoy explains. "These are babies who could grow to be the future Presidents of the United States or the next Oprah Winfrey, Denzel Washington or Maya Angelou."
As might be expected, Planned Parenthood is furious.
Earlier this year, Life Always posted a large banner in a Manhattan neighborhood with the image of an African-American child and the words "The most dangerous place for an African-American is in the womb."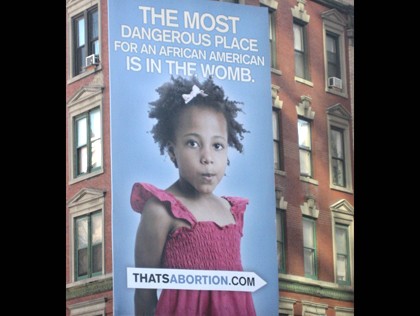 Civil rights activist Al Sharpton denounced the New York billboard, saying it "depicted black women in an unfair way." Planned Parenthood called it "an offensive and condescending effort to stigmatize and shame African-American women, while attempting to discredit the work of Planned Parenthood."
Life Always says the billboards alert the public that a "black genocide" is occurring through legalized abortion-on-demand.
Supportive black leaders were on hand Tuesday for the first billboard's unveiling, including former 2nd Congressional district GOP candidate Rev. Isaac Hayes, the Rev. Ceasar LeFlore, the Rev. Derek A. McCoy and Pastor Stephen Broden, an anti-abortion activist who ran for office as a Republican in Texas last year.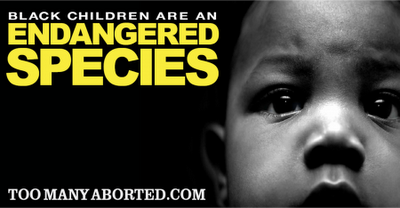 The group has conducted similar campaigns in Jacksonville, Florida and throughout Texas. Protests over the Manhattan billboard featuring the little girl resulted in the billboard coming down after less than 24 hours, but brought millions of dollars worth of media coverage as well as nationwide attention to the campaign.