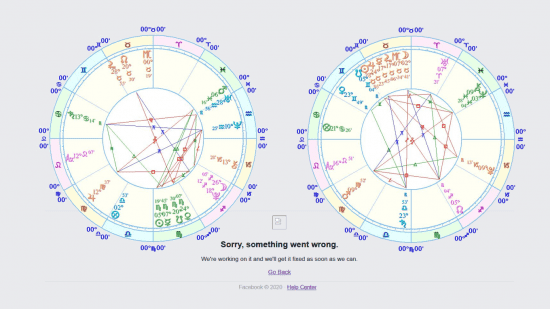 Facebook was offline for about six hours yesterday, and it managed to take Instagram and WhatsApp down with it. Normally in a situation like this, we could all laugh it off by saying something about Mercury retrograde and carry on with our lives. However, this temporary inconvenience for some was a big deal to people who do business through Facebook. And yes — there is plenty more than just Mercury retrograde involved with what happened yesterday.
We are fortunate to have no less than two birth charts for Facebook. One of them is October 28th 2003, at 9 PM, Harvard University. That's when the precursor to Facebook actually went online for the first time. The other birth chart for Facebook is for the initial purchase offer (IPO) of Facebook stock. We use this to measure the financial performance of the company.
Fun Fact: Most IPO charts start at 9:30 when trading begins. The Facebook IPO is two hours later than that because of technical issues that day. Go figure!
(No matter what transits are happening, how they play out in your life depends on your individual birth chart. Write me with your date, time, and place of birth — and I'll send you a copy and a free sneak preview!)
Both charts were hit pretty heavily yesterday by the transits. The Midheaven of the 2003 chart, Facebook's purpose in life if you will, is ruled by Venus. Facebook has its Sun and Mercury conjunct at 5-7 degrees Scorpio, and has its Venus conjunct the South Node between 20 and 24 degrees Scorpio. Facebook may be having its Venus return now, and normally you'd think that would be a good thing. However, transiting Saturn in Aquarius is currently square the natal Sun and Mercury of the 2003 charge, and transiting Uranus is opposite that point. In addition, the Venus and South Node are being squared by Jupiter which is now at 22 degrees Aquarius.
The IPO chart is facing similar issues. The Ascendant is ruled by Jupiter at 24 degrees Taurus, and the Second House (which is where you make your money) is ruled by Mercury which is at 17 degrees Taurus in the natal chart. These are being affected in largely the same way by the Saturn-Uranus square. What's more, the IPO chart has its Midheaven at 7 degrees Taurus, and that point is being squared by transiting Saturn. Transiting Saturn is currently retrograde but less than a degree off the exact square to the IPO Midheaven. Remember that transit — because it will be back before the end of the year.
And what's interesting is that the real trouble for Facebook started Sunday evening. That's when former product manager for Facebook, Frances Haugen, appeared. The formerly Anonymous whistleblower who reported that Facebook deliberately ignored the harm caused by hate speech and misinformation because it was more profitable to do so.
Today, Frances Haugen is scheduled to testify in front of US lawmakers about the harm that Facebook has knowingly done by continuing to allow its algorithms to late the hate and the lies spread.
So yes, there's a heck of a lot more going on here just Mercury retrograde. Stay tuned. This story is far from over.
Want to know how to work with the current and future energy to get maximum benefit? Feel free to write me about it!
CLICK HERE to find out how you can get a personalized, informative, life-changing consultation that will help you take charge of your life in the next year!
CLICK HERE to join the OH MY STARS Facebook Fan Page, and get exclusive content, an additional discount on a reading, and more material on blog entries!