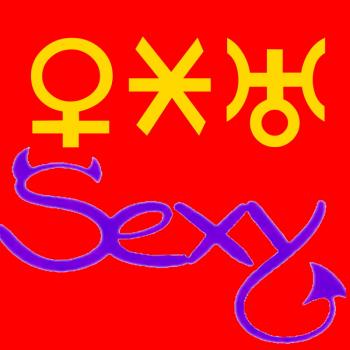 (EDITOR'S NOTE: Matthew Currie is currently in the ICU, recovering from an overdose of misleading memes. In his place we present freelance style commentator, lifestyle writer, and (we swear!) fully qualified astrologer, Gigli Starseed Prosegrinder)
Greetings, seedlings! I'm here to tell you today about the most exciting astrological aspect in the sky since the last one affecting your love life: Venus sextile Uranus! It's so awesome and amazing that, without the least bit of exaggeration, it will guarantee that you can make your love life a truly wonderful and fantastic place no matter what else is going on with your life!
(No matter what transits are happening, how they play out in your life depends on your individual birth chart. Write Matthew with your date, time, and place of birth — and he'll send you a copy and a free sneak preview!)
First of all, Venus is now in the Sign of Cancer. Venus in Cancer is as adorable and wonderful as a small baby, and screams just as loudly for attention when that baby isn't getting enough of it. Uranus in Taurus, on the other hand, is a bit wild and freaky. It could be the Fifty Shades of Grey kind of freaky — or it could be the "not allowed within 100 yards of an elementary school" kind of freaky.
This aspect is so darned great for romance that you should be able to overcome all of the other things that are making your life miserable, and will bring you new love or strengthen an old relationship or make the celebrity of your choice (whom you've never actually met) fall madly in love with you. Or something.
As a fully qualified astrologer, I swear, let me give you some advice that will help you lighten up your love life in the next couple of weeks. And I can GUARANTEE those results, because as you may have heard, am a fully qualified astrologer.
Here are some fun ways to use that funky-fresh Venus-Uranus vibe help you get your groove on!
IF YOU'RE ALREADY IN A RELATIONSHIP:
Try a little role-playing, but with a twist. One of you should dress up as Spider-Man, and burst into the bedroom of your partner who is dressed as Batman. Argue over how you don't even belong to the same comic book company until you have no choice but to work things out between the sheets. Bonus round: invite someone over who is dressed as Olive Oyl from the old Popeye comic strip.
IF YOU WANT TO START A RELATIONSHIP WITH SOMEONE WHO ISN'T INTERESTED:
Do some meticulous research into the personal life of the object of your affection. Find out where he or she lives, what their schedule is like, their personal habits, and so on. Once you've established when they are going to be relatively alone and vulnerable? Dress up as Spider-Man, break into that person's house, and announced loudly that you are there to "rescue them from their loneliness."
IF YOU AREN'T IN A RELATIONSHIP AND CAN'T FIND ANYONE:
You probably just aren't making an effort, or it's your karma, or something.
(Gigli Starseed Prosegrinder is the author of "The Only Way To Overgeneralize About Astrology" and "I Am A Fully Qualified Astrologer," both available now at that bookstore in the part of town you'd rather not go to.)
Want to know how to work with the current and future energy to get maximum benefit? Feel free to write Matthew about it!
CLICK HERE to find out how you can get a personalized, informative, life-changing consultation that will help you take charge of your life in the next year!
CLICK HERE to join the OH MY STARS Facebook Fan Page, and get exclusive content, an additional discount on a reading, and more material on blog entries!