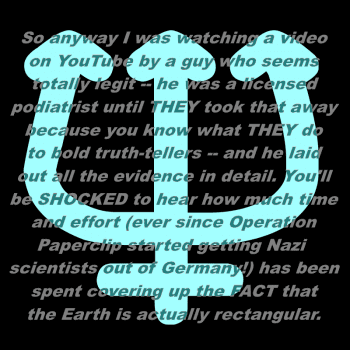 And if I don't make it known that I've loved you all along

Just like sunny days that we ignore
Because we're all dumb and jaded
And, and I hope to God I figure out what's wrong
-Our Lady Peace, 4 AM
This is Part Two of my guide to Neptune sextile Pluto, the aspect that appears to be making us all stupid while the Mars-Saturn-Pluto aspects are making us all explosively angry. If you haven't seen it before, CLICK HERE for Part One.
(Wondering what the next few months hold in store for you? Write me with your date, time, and place of birth — and I'll send you a free sneak preview!)
I had originally planned a long winded (and probably less fun) entry here on the subject of "fake news," but fortunately Twitter recently supplied me with a much more amusing example. I discovered this because of my great fondness for my favorite slice of stinky reality-TV cheese: a show called 90 Day Fiance.
I was looking at the Twitter account of Paola Mayfield. For those of you unfamiliar with her or the show, she is a Colombian-born swimwear and lingerie model who met and fell in love with an American guy. The American guy then brought her to America, at which point his more conservative and traditional values kicked in, and he suddenly got upset that his future wife was dressing and acting like a Colombian-born swimwear and lingerie model. See now why I love this show?
On Friday, Paola Tweeted this:
What do you think about the idea of Bill gates (sic) blocking the sun? Do you know about it?
This made her the target of considerable derision, because it looked like she was somehow conflating a classic episode of The Simpsons (when Mr. Burns attempted to block out the Sun in order to prevent competition with his nuclear power plant) with reality. As many propagators of fake news will do, she responded to the laughter and insults with this:
And maybe you should research a little bit more and stop believe everything that the news are (sic) telling you
Then had a good laugh at how silly Paola was being and got on with our lives.
BUT WAIT, THERE'S MORE!
You see, someone dug up a legitimate link to a news story on Forbes.com about how Harvard scientists have plans to "tackle climate change through geoengineering by blocking the Sun."
Whoa. Mind blown. Could this be actually true? It certainly sounded like it.
BUT WAIT, THERE'S MORE!
The Forbes article contains a link to the actual FAQ from Harvard University about this project. It's called the Stratospheric Controlled Perturbation Experiment (SCoPEx to its friends). And yes, it turns out that Harvard University scientists are actually studying ways to reduce the total received amount of sunlight on Earth in order to reduce climate change.
BUT WAIT, THERE'S MORE!
These Harvard scientists aren't building a giant solar shield. Essentially, they intend to launch a big balloon and park a bunch of instruments in the shadow it casts in order to study "the aerosol microphysics and atmospheric chemistry that are currently highly uncertain in the simulations. It is not a test of solar geoengineering per se."
In other words, no. Even if someone did want to go full Montgomery Burns on us, the technology simply doesn't exist, and even the current simulations testing that idea are far from complete. And while we're at it? Bill Gates has absolutely nothing to do with it. This is just scientists doing what scientists do: they come up with an idea that may or may not be crazy, and do some tests to see whether or not it would actually work.
To summarize: science is hard, paranoia is easy, and we've all been conditioned to repeat crap that simply isn't true based on our own preconceptions. And no, I'm not letting myself off the hook for this either.
So please, in this age of delusional nonsense-sharing, could we please all learn to do a little thinking and a little digging before we believe and then repeat something inherently wrong just because it fits our preconceptions?
Also, did you know that MIT did a study that demonstrates that fake news spreads six times faster on Twitter than real news does? Or… did they? You probably shouldn't just take my word for it because you want to believe it. As so many now say: do your own research.
Want to know how to work with the current and future energy to get maximum benefit? Feel free to write me about it!
CLICK HERE to find out how you can get a personalized, informative, life-changing consultation that will help you take charge of your life in the next year!
CLICK HERE to join the OH MY STARS Facebook Fan Page, and get exclusive content, an additional discount on a reading, and more material on blog entries!