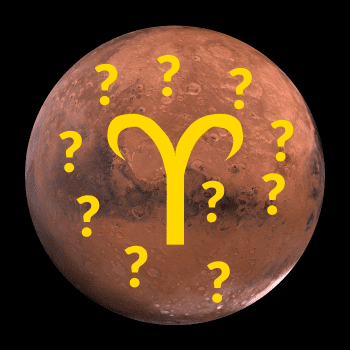 (This is part of the Mars in Aries series I will be running throughout the rest of this year. Mars is going to spend a ridiculously long time in Aries, and the more prepared you are for it, the better. CLICK HERE for the introduction to this series.)
THIS WEEK: This week Mars spans the distance from 19-21 degrees Aries. It doesn't form any exact major aspects to any planet other than the Moon this week, but there are two things to be cautious about. First of all, Mars is still in range of the square to Mercury earlier in the week, and this increases the chance that you'll get angry and open your fool mouth about something to someone that you shouldn't… or that someone will do that to you.
(Wondering what the next few months hold in store for you? Write me with your date, time, and place of birth — and I'll send you a free sneak preview!)
On Tuesday, Mars square Jupiter is exact. Normally I'd just be warning you about being "excessive. "However, by the end of the week, Mars will also be very close to the exact square with Pluto, and then Saturn. You'll probably be feeling the effects of all that for most of the week, and you might notice yourself or others getting more frustrated or angry, sometimes for a little or no reason. If you were hit hard by the Saturn-Pluto conjunction of January (and if you think about it, the whole world was, wasn't it?) now and in the next three weeks is the time to really, really start paying attention. Really.
WHO WINS/WHO LOSES?: Any major planets or placements in your birth chart between 14 and 26 degrees of the Fire Signs (Aries, Leo, or Sagittarius) will feel a distinct boost. Your Air Sign placements (Gemini, Libra, or Aquarius) will receive a less obvious (but still real) shot of energy — although for Libra, it may not be that comfortable. Any major birth chart placements in or around those degrees of Cancer or Capricorn? They will be feeling some agitation.
MOON ASPECTS: Do your absolute best to avoid conflict on Sunday, August 9th. The moon in Aries will spend the day approaching the conjunction to Mars and by the end of the day it will have also being square Jupiter, then Pluto, then Saturn. Ouch!
WHY THIS WEEK IS IMPORTANT: Mars returns to these degrees in October. Take note of where the wheels fall off in your life this week — and be prepared to tighten those lug nuts again two months from now.
Want to know how to work with the current and future energy to get maximum benefit? Feel free to write me about it!
CLICK HERE to find out how you can get a personalized, informative, life-changing consultation that will help you take charge of your life in the next year!
CLICK HERE to join the OH MY STARS Facebook Fan Page, and get exclusive content, an additional discount on a reading, and more material on blog entries!