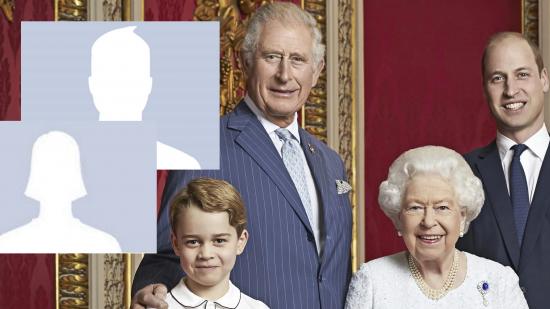 (Wondering what the next few months hold in store for you? Write me with your date, time, and place of birth — and I'll send you a free sneak preview!)
Much of my work as an astrologer involves looking at relationships. More often than not, that means specifically "romantic relationships." But the same astrological dynamics that apply between people in a romantic relationship also apply to individuals in a family. The same aspects that can make things easy or difficult between a couple can make things easy or difficult with a child or a parent or your nieces or nephews.
We have an unusual opportunity in front of us now to observe what could be called "the breakup of a family." I'm referring specifically to Britain's Royal Family. I've been looking at all the charts and the transits and sure enough, it's all there in the astrology. We should be thankful all the Royals have confirmed dates and times of birth!
Over the course of the next few blog entries I will be looking at the charts of the major players in the Windsor family, and showing you not only the dynamics of how they interact, but why it is that )because of the transits) so much is coming together now to create what is being called "Meghxit": Prince Harry and Meghan Markle stepping down from their Royal duties and deciding to move off to Canada.
I admit that overall I have no strong feelings about the Royal Family either way. Having been born and raised in Canada, the most the Royal Family usually meant to me is that Queen Elizabeth is on some of the money, and we had to sing "God Save The Queen" (not the Sex Pistols version — the one that in the US is called "My Country 'Tis Of Thee and has different lyrics) in school at assemblies. Other than that though? I am neither a fan nor a hater. The astrology of what's going on right now with them is pretty interesting, and I'm going to have a long objective look at why this is all happening now, and how everyone's individual birth chart and transits are playing into the bigger picture.
Oh, and that whole Prince Andrew / Jeffrey Epstein thing? I'll be having a look at that too. Stay tuned!
Want to know how to work with the current and future energy to get maximum benefit? Feel free to write me about it!
CLICK HERE to find out how you can get a personalized, informative, life-changing consultation that will help you take charge of your life in the next year!
CLICK HERE to join the OH MY STARS Facebook Fan Page, and get exclusive content, an additional discount on a reading, and more material on blog entries!