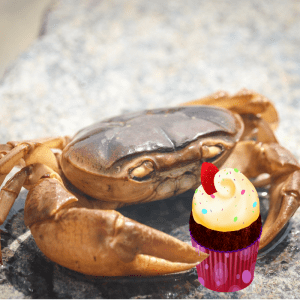 July 3 Venus enters Cancer
Hello, everyone, and welcome to my new Cupcake Bakery! I just want everyone to be happy, and nothing makes people happier than cupcakes. I put all my care and attention into everything I bake, and I hope you enjoy my work! Feel free to leave a comment below…
July  8, 2019 Venus sextile Uranus
Uranus – 159 friends, 523 reviews
FIVE STARS
Fantastic and friendly service! Went above and beyond to accommodate both my unusual tastes and numerous food sensitivities. We actually came up with a new regular item together. Next time you're in, ask for the gluten free broccoli macaroons!
July 16, 2019    Venus quincunx Jupiter
Jupiter – 15,238 friends, 876 reviews
TWO AND A HALF STARS
At first this cheerful and brightly lit shop looked like it was going to be a pure delight. Unfortunately, Venus was unable to fulfill my order. She started feeding me a line about how much work it takes to bake cupcakes and that there was no way she could produce the cupcakes I needed with an hour's notice for the annual shareholders convention. I took everything in stock though, and I admit they were delicious.
July 17, 2019    Venus opposite Saturn
Saturn – 0 friends, 12,378 reviews
ONE STAR
Would give this place zero stars if I could. The owner was trying too hard, and I found her to be sickeningly sweet, like her products. I requested something less sugary and with more protein, and she was unable to provide this. She said I was being cruel and unfair. I told her that's how business works: the customer is always right.
July 18, 2019    Venus trine Neptune
Neptune – 8170 friends, 923 reviews
FIVE STARS
I had such a good time in this shop! Venus was charming and delightful, and her products are absolutely delicious! I stayed there and spent all my money until (unfortunately) I experienced diabetic shock. Still, even the ambulance ride afterwards was fun!
July 21, 2019    Venus opposite Pluto
Pluto – 730 friends, 1476 reviews
THREE STARS
I was immediately drawn into this delightful establishment by the bright signage out front and the tempting smell coming from within. The owner was appealing and her baking was delicious. Nonetheless I found myself compelled to break a couple of display cases on my way out, just so she'd remember me next time I showed up.
July 24, 2019    Mercury conjunct Venus
Mercury – 7518 friends, 23805 reviews
FIVE STARS
Such a fun and friendly environment! I really loved everything Venus has done with the place! We got along really well, and had a lot of great ideas together. I can hardly wait until the shop re-opens in a few days to see how many of my ideas she has implemented!
July 27    Venus enters Leo
Hello, everyone, and welcome to my new Beauty Salon! I just want everyone to be happy, and nothing makes people happier than a new hairdo and a manicure…
Want to know how to work with the current and future energy to get maximum benefit? Feel free to write me about it!
CLICK HERE to find out how you can get a personalized, informative, life-changing consultation that will help you take charge of your life in the next year!
CLICK HERE to join the OH MY STARS Facebook Fan Page, and get exclusive content, an additional discount on a reading, and more material on blog entries!