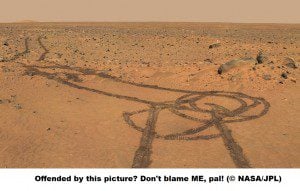 (CLICK HERE for more on The Astrology of 2019)
When going over the major transits for any given year, it can be easy to overlook Mars unless it comes into contact with one of the major outer planets. That could be a particular mistake in 2019, as Mars is having a very interesting year. It enters Aries, the Sign it rules, right on New Year's Day. It has absolutely no retrogrades in 2019, and spends two months out of bounds.
Mars rules drives and ambition in general, and sex. What, you don't want to be warned in advance about that sort of thing?
Here is a listing of major Mars activity for 2019. I've listed the exact date for the significant major aspects to other planets, but keep in mind that the aspect is going to be in effect for a good four or five days or so before and after the exact date.
Jan 1 Mars enters Aries
Jan 25 Mars trine Jupiter in Sagittarius
Lots of energy for your important activities.
Feb 2 Mars square Pluto in Capricorn
Potentially explosive. Try to lean on diplomacy.
Feb 13 Mars conjunct Uranus in Aries
Perky, energetic, and a little hard to control or predict.
Feb 14 Mars enters Taurus
Mar 20 Mars trine Pluto in Capricorn
This is a powerful aspect that, directed properly, can get you serious results.
Mar 31 Mars enters Gemini
Apr 20 – Jun 19 Mars Out Of Bounds
When a planet is "out of bounds," it's a little like an unsupervised toddler. it may not be completely uncontrolled and it may not lead to complete disaster, but the odds of that sort of thing increase significantly. Be especially careful with machinery, cutting things, and heating things.
Apr 27 Mars square Neptune in Pisces
You might think that you found the right target, and you might think it's time to strike. You better rethink that.
May 16 Mars enters Cancer
Jun 14 Mars trine Neptune in Pisces
Now is a good time to get what you want, and you may find charm is a particularly effective technique.
Jun 14 Mars opposition Saturn in Capricorn
Ouch! There is a lot of potential for emotional wounding under this aspect. Try not to lose your temper, and try to forgive those who do.
Jul 2 Mars enters Leo
Jul 25 Mars trine Jupiter in Sagittarius
Such a good mood! Such an urge to get things done! Be sure you think it through first though. Enthusiasm isn't everything.
Aug 23 Mars enters Virgo
Aug 24 Venus Conjunct Mars In Virgo
Aug 26 Venus trine Uranus in Taurus
Aug 28 Mars trine Uranus in Taurus
Sept 3 Sun, Mercury, Venus and Mars all in Virgo, all square Jupiter, trine Uranus, and opposite Neptune
(CLICK HERE for more about the Jupiter-Neptune square) Wow. Mars is really amplified during this time, and with the aspect to Venus (which brings an increased urge to socialize and mingle), the last week of August and first part of September appears to be a time when informal gatherings will turn into outright parties, and outright parties will turn either into late-night noise complaints and/or orgies or both. I suppose that depends on the kind of friends you usually have informal gatherings with.
Sept 9 Mars trine Saturn in Capricorn
A good time for making constructive and lasting solutions happen.
Sept 12 Mars square Jupiter in Sagittarius
… But not so great a time for being happy about it.
Sept 14 Mars opposition Neptune in Pisces
… Or for being particularly realistic about it.
Sept 19 Mars trine Pluto in Capricorn
…but what the heck! It's fun to blow things up, so why not start with the neighbor's house?
Oct 4 Mars enters Libra
Nov 5 Mars square Pluto in Capricorn
This will be a time of erratic action and erratic blood pressure.
Nov 19 Mars enters Scorpio
Nov 24 Mars opposition Uranus in Taurus
This will be a time of erratic action and erratic blood pressure.
Dec 13 Mars trine Neptune in Pisces
Charm and sexiness can go a long way. Just make sure they lead you in the right direction.
Want to know how to work with the current and future energy to get maximum benefit? Feel free to write me about it!
CLICK HERE to find out how you can get a personalized, informative, life-changing consultation that will help you take charge of your life in the next year!
CLICK HERE to join the OH MY STARS Facebook Fan Page, and get exclusive content, an additional discount on a reading, and more material on blog entries!