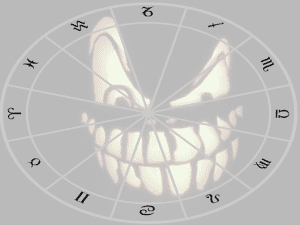 (Not into Halloween? Read on anyway. Taken more metaphorically, this can be useful advice for dressing more attractively in general based on your Venus placement! Also: the article is written specifically for those of you who identify as "cisgender female." Halloween is an old tradition, and it'll take a while to get caught up with the new paradigm. )
Halloween is approaching — that night when many of the world's children dress up in strange costumes and extort candy from the neighbors. As festive occasions go, it's pretty straightforward: the kids go door to door, they look cute, they're rewarded with treats. Sometimes it's the good stuff … sometimes it's really bad crap that's only good for throwing at people.
Sounds a little like dating, doesn't it?
If you're reading this blog, odds are good you have at least a passing familiarity with your Sun Sign and your Moon Sign. As seduction techniques, playing to those factors in your chart can be very effective. But let's not forget about your Venus, either. There's a tendency to look at a person's Venus as if it were some sort of passive love-receiver. But if your Venus is part of your personal charm, I say put it to work. You might be surprised at the results. Think of it as an extra spin you can put on your persona — the appealing wrapper you come in, so to speak.
Here's how the twelve Venus signs would dress for Halloween, going door to door looking for that perfect man-candy. Go ahead, play it up. You might get quite the treat…
Aries – Wonder Woman. You're bold, you're daring, and you don't take any crap. It's the discerning man who develops a taste for The Queen Of Amazonia, and the lucky one who who can keep up with her. And what mate worth the time doesn't love that kind of challenge?
Taurus – Raggedy Ann. So sweet and cuddly! A little bit old-fashioned, the kind of girl that Mom would approve of, but in a good way. You understand just how the scent of freshly baked chocolate cookies — figuratively or literally — works like a pheromone.
Gemini – Clown. You're funny. You have a light touch, and a certain universal appeal. Never forget than when someone is looking for a new relationship, they're also looking for fun, in one sense or another. And that sparkling wit and liveliness may be exactly what someone is looking for. Bonus Points: if you're in a bad mood, you're one bloody machete away from "Evil Clown"!
Cancer – Pirate. When you love, it's as deep as the sea itself. And that peculiar openness/defensiveness you have can be a call to adventure for the right partner. And, admittedly, you can be a challenge to someone who's been sailing the smooth seas of singlehood for too long. Ahrrr! (Make up you own "booty" joke.)
Leo – Cheerleader. 2, 4, 6, 8? What do potential mates appreciate? Showmanship! Showmanship! Rah rah rah! And what real love candidate, with a little encouragement, can resist the urge to run the ball down field? There's a reason cheer-leading is so popular — and it ain't got nothing to do with sports, Sister. It's the show.
Virgo – Nurse. So kind, so patient, so caring. Yes, there's a certain facade of professional detachment, but that can only increase the thrill of getting past that uniform. This is an incredibly subtle, feminine placement. Used wisely, it can drive someone absolutely bonkers … in a good way.
Want to know how to work with the current and future energy to get maximum benefit? Feel free to write me about it!
CLICK HERE to find out how you can get a personalized, informative, life-changing consultation that will help you take charge of your life in the next year!
CLICK HERE to join the OH MY STARS Facebook Fan Page, and get exclusive content, an additional discount on a reading, and more material on blog entries!