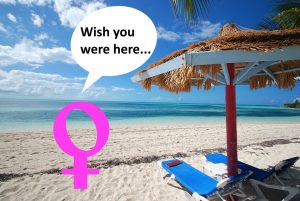 Aug 6 Venus enters Libra
Dear Diary: I just arrived here in Libra and am looking forward to a restful time. I can hardly wait to get these sensible shoes off my feet. Being in Virgo just wasn't my style.
Aug 7 Venus trine Mars
(+/- 4 days) A good time for meeting, greeting, and socializing. Also: sex drives get turned up a notch.
Dear Diary: it wasn't long until I got a call from Mars, who is consistently my most intriguing partner even if he's nothing much like me. "Hey baby, he said, "I've been hanging out an aquarius for a while and I've got some weird new ideas I'd like to try out on you. I'm in the lobby now. Would you like me to come up and show you?"
Well, so much for getting any rest…
Aug 8 Venus opposite Chiron
(+/- 3 days) Others may have hurt you, but now could be a good time to make peace with both the damage and the people responsible.
Dear Diary: While Mars was out getting food and fluids to replenish himself I got a call from Chiron. "Still having fun with Mars? Are you sure you just aren't trying to fill an emotional hole left over from your childhood? Is this an acceptance or worthiness issue?" Chiron said.  I hung up on him, but I admit he left me with something to think about. I hate having things to think about when I'm on vacation.
Aug 9 Venus quincunx Uranus
(+/- 4 days) Strange and unusual circumstances arise in people's love lives.
Dear Diary: Uranus called. "Is Mars still there? Well, if you think he's got some freaky new ideas, wait until you see what I've got for you. I'll be over in 15 minutes." There was some fun for a while until Mars and Uranus got into a fight over who got to hold the camera next, and they both left. Sigh.
Aug 18 Mercury sextile Venus
(+/- 3 days) An excellent time for creativity and/or writing a love letter.
Dear Diary: I was soaking by the pool when I got a call from Mercury. "Hey honey," he said. "I heard you had a bad time lately, and I just want to know that I think you are strong and beautiful and one day you will find exactly what you want in life."
"Oh Mercury, I love you so much and we are so much alike. You always help me through. Why can't I find someone like you to stay with?" I said.
"Oh honey," Mercury replied. "Anyone would be lucky to have you, but you know how gender-neutral I am"
Aug 22  Venus quincunx Neptune
(+/- 4 days) You love it, you want it… but can you afford it?
Dear Diary:  I ran into Neptune in the lounge this afternoon. He's often considered to be a "Higher Octave" of myself, so usually we get along. However he's been in a strange mood lately. We went back into my room but spent the rest of the night looking at American Girl collectible dolls online and sobbing about past relationships for no good reason whatsoever. Still, it was good to get caught up.
Aug 26 Venus square Pluto
(+/-4 days) Your appetite for love and caring and fried food are amplified — try not to shove anyone out of the way to the buffet table.
Dear Diary: I was getting sick and tired of sitting around waiting for proper romance to show up when Pluto dropped by. we both had some things to work out, so a good time was had, but I'm afraid I won't be getting the damage deposit back on the room this time.
Sep  8  Venus square Mars
(+/- 4 days) Sex drives and the urge to socialize are both amplified, but not necessarily in a comfortable or practical way.
Dear Diary: Mars came back, but this time he was looking all Mad Max and only had one thing on his mind. Nonetheless, it was a good thing while it lasted. Also, I can now definitely confirm that I will not be getting the damage deposit back.
Sep 9 Venus enters Scorpio
Dear Diary: Well, that trip wasn't nearly as relaxing or delightful as I had hoped. I'm guessing I need a change of pace. so, it's off to Scorpio for me! Good thing I remembered to pack my little black dress and fishnets…
Want to know how to work with the current and future energy to get maximum benefit? Feel free to write me about it!
CLICK HERE to find out how you can get a personalized, informative, life-changing consultation that will help you take charge of your life in the next year!
CLICK HERE to join the OH MY STARS Facebook Fan Page, and get exclusive content, an additional discount on a reading, and more material on blog entries!