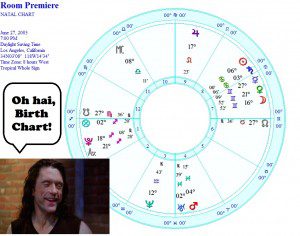 "I think The Room is something magnetic, a certain magnetism in The Room that is related to human behavior, and that's why people relate to it"
-Tommy Wiseau
(In Part One, which you can read HERE, I demonstrated how a potentially good and popular idea — Bitcoin — can be undone by a bad birth chart. In Part Two, I'll demonstrate how the opposite can also be true.)
Many people have referred to Tommy Wiseau's The Room as "the worst film ever made." This may be accurate, and yet completely misses the point. Sure, you've seen bad movies before — whether it's the terrible production values of Plan Nine From Outer Space or the awful cheese of Showgirls or the pure wrong-headedness of Freddy Got Fingered, and yes, those titles all deserve consideration when it comes to the bottom of the cinematic barrel. But The Room stands out above all of these. It's my contention that The Room doesn't merely break the rules of Good Film-Making… it attempts to follow those rules while reading them through a window smeared with Vasoline. The Room isn't just bad… it's so bad that, like a concentrated black hole of awfulness, it bends space-time around itself and punches a hole into an alternate universe and comes out the other side as something resembling Great Art.
Tommy Wiseau speaks the lines he himself wrote as if he doesn't understand them, and he speaks them in an accent even linguists can't identify. Characters change their motivations within the course of a single scene. An entire character disappears and is replaced without explanation. People play football in a back alley dressed in tuxedos for no reason. One of the least erotic loves scenes ever filmed gets shown TWICE… or is it two different scenes shot almost identically, and I can't really tell they're different because they're both so awful I can't watch them? The focus is off. People wander in and out of a private home for no reason like it's a public park, contribute little or nothing to the story, and then wander off.
Despite this… or more accurately because of this… I love The Room. You've seen or heard of dogs that are so ugly they're cute, or relationships so wrong that their right? That's what The Room is. Further, I insist that it qualifies as Great Art because of the profound emotional effect it has on people, whether that effect is howls of derisive laughter or simply the uncomprehending awe and confusion you'd feel at seeing a UFO casually parked in the middle of a used car lot.
But enough about my love for The Room… you'll just have to see it for yourself, and you can either thank or condemn me for it later. The real question I'm attempting to answer here is: in a world full of bad movies, why does The Room continue to fascinate… and why does it continue to make money? The answer is in The Room's birth chart.
***
A complex endeavor like a film can be maddeningly difficult to find a "date of birth" for. Does a film "begin" with the first idea a screenwriter has, the first contract someone signs to work on the film, the date a studio agrees to distrube it, or something else? In my experience, the "birth chart" that works best for a business is the date and time the first customer walks in the door, and for a TV show or film, it's when the Premiere happens (For another example, see my article HERE on the BBC series Doctor Who).
Assuming that The Universe doesn't care about my opinions on Art, how does the Premiere Chart for The Room indicate success? Certainly, Neptune in the Third House and a weakly-aspected Mercury reflect its general incomprehensibility, but Art is ultimately a matter of personal taste. Let's talk about money instead.
When we're looking at success in business, we are primarily concerned with the Second House (money), the Eighth House (other people's money), and the Tenth (business/career) and the Eleventh (money made from business/career) Houses. Saturn ruling the Second may sound like bad news… and in fact it took a while for The Room to start bringing in money, unlike most films that make the majority of their cash in the first few weeks at the box office. Saturn is in a diffcult Sign for it (Cancer) and is conjunct the Sun. Although that again certainly sounds like bad news (and again, it took an unusually long time for this film to make money) that Sun is the ruler of an elevated Jupiter, which is the general ruler of "good fortune." Jupiter is also the Ascendant ruler. Sun conjunct Saturn in a birth chart can indicate an existence that starts out at a disadvantage but that can improve over time. It wasn't until word of mouth got out (Eleventh House – socializing, groups, and "word of mouth") about The Room that it really started to take off (Eleventh House ruler Venus is opposite Pluto in the First House, and Venus is also the ruler of the Midheaven, which is in the Eleventh House).
(Note to the Astrologers out there: yeah, you heard me… I said the Midheaven is in the Eleventh House. I'm using Whole Sign Houses, and they work, so there.)
Taken as a whole, these aspects all indicate that The Worst Movie Ever Made has a successful "birth chart"… in fact, it is a chart that shows unusual long-term success for a film. If you don't believe me, look at some of the more conventionally successful films of 2003. When's the last time you heard someone ranting about their new Blu-Ray of 2003 Best Film winner Chicago? Have any of your friends raved about Gangs of New York lately? Best Actor and Best Supporting Actor that year went to Adrien Brody and Chris Cooper… and where are they now? You know where Tommy Wiseau is, right now? He's probably getting ready to address a crowd of adoring fans of The Room somewhere, which still shows in theaters all over North America, still delighting fans and engaging them in a way few films other than perhaps "The Rocky Horror Picture Show" ever have.
In 2003 James Franco was just starting to hit his stride as a superstar. Now, as Jupiter rolls through The Room Premiere's Eighth House, he's planning on making a film of The Disaster Artist… the book written by Room co-star Greg Sestero about his experience making The Room. Top THAT for "long-term success," Bruce Almighty!
So: next time you want to start a business or a project that you really want to succeed, consult an astrologer about what the best timing is. No matter how much you may believe in your idea, a good idea can be made more successful by the right timing. And, it seems, even a terrible idea can work if the timing is right.
Questions about your birth chart, or astrology in general? Write me… I've got answers!
CLICK HERE to join the Oh My Stars Facebook Fan Page, and get exclusive content, a discount on a reading,additional material on each blog entry as it comes out, AND a free e-book!
Want to learn the mysteries of Vedic Astrology is an easy, fun way for one low price? Join VEDIC ASTROLOGY WITHOUT TEARS now for a free preview!