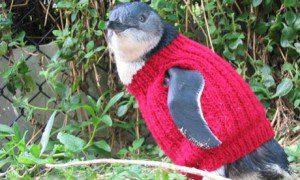 Among the many pressing questions that have been raised in The Internet Age… Is the government spying on me? Is my consumption of High Fructose Corn Syrup killing me? Is there GMO wheat in this sandwich, and will that make me grow a second head?… we can now add another: Should I be knitting a sweater for a penguin?
The Internet Age is the absolute pinnacle of human achievement as far as the exchange of information. Neptune is in the Sign that it rules, Pisces, and is the pinnacle of dreams and delusions. What do you get when you put the two together? You get the recurring story of Penguins in Sweaters.
Allow me to explain: when an oil spill happens, a large part of the harm it does to animals comes from how oil clings to them, and birds who dive for a living — like ducks or cormorants or seagulls or penguins — are particularly susceptible. It's hard to avoid a layer of crude oil on top of the water when you're diving in and out of the stuff all day long looking for lunch. An oil-soaked penguin is quite likely doomed, as the oil is hard for them to remove, potentially toxic, and messes with their temperature regulation. Fortunately, people have discovered that cleaning an oil-soaked penguin with a mild detergent can save them. The problem is: what do you do with a penguin who is already weakened and sick and can't simply be scrubbed and set loose? As people discovered in January 2000 when an oil spill threatened the penguins of Phillips Island, Australia… you scrub the penguins and then you put little sweaters on them.
The Tasmanian Conservation Trust and State Library appealed to the public to knit and contribute penguin-sized sweaters to assist this cause, because as it turns out there aren't a lot of penguin-sized sweaters you can buy off the rack. The Conservation Trust had initially hoped for a hundred or so… they ended up receiving thousands. And it turns out that few of them have actually ended up being used, because it seems that wearing a sweater isn't a natural thing for a penguin, and in fact playing dress-up with one could cause an already stressed animal more harm. Besides… have you ever tried diving for fish in a sweater, and how did that work out for you?
So what started as a genuine plea for help and an attempt to raise public awareness got out of hand, and now almost a decade and a half later the story is back, with major news outlets like Time Magazine reporting this alleged need for penguin attire… and people are believing the story because, well… because penguins in sweaters, that's why!
***
I like to think of myself as a rational, skeptical person. I'm the guy on your Facebook page who likes to point out that, for example, there have been many major studies that show there's no connection between vaccinations and autism, or that Bill Gates does NOT want to give you his money, or that Facebook is NOT going to turn into a for-pay service by the end of the month, or that it's easily demonstrated that there's no such thing as "the planet Nibiru," or whatever.
But yes: just like the people who want to ignore mainstream science because of some belief in a conspiracy, or anyone else you or I may think is a gullible fool who will simply leap at the first unsubstantiated whisper that fits their worldview, I too bought into the notion of Sweaters For Penguins. And why wouldn't I? Just look. LOOK I TELL YOU!!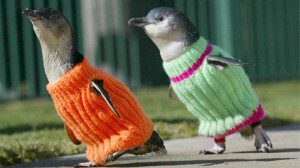 You can't argue with that.
Yes, I realize that there are people out there who point out that animals don't naturally wear clothes, and will say that dressing up animals for our amusement is wrong and demeaning to the animal in question, and simply reduces the dignity of both animal and human. The people who say this probably have a good point, to which I can only respond "I agree, and I think — OMG look it's a dachshund in a Superman costume I want one I want one I want one RIGHT NOW!!!" So on this point we will simply have to agree to disagree.
***
The Neptunian Beat goes on. Today, for example, people are spreading the story that the crash of Malaysia Airlines flight MH370 is related to a shadowy Oil Company conspiracy because there were 20 people on the plane who worked for a company that made electronic components for electric cars… which completely ignores that the same company also makes components for washing machines and refrigerators. Why is no one blaming Big Laundry, I ask you? What about The Frozen Burrito Illuminati?
Of course, eventually the cause of the crash will be determined, but enough of the memory of the possible conspiracy will linger that it will feed into the same mindset that insists that everything is part of The Big Conspiracy, and proof be damned, and the next time something tragic happens that is somehow distantly related to electric cars, the mis-remembered story will be invoked again, and someone will write a blog entry about it, and other blog entries will link to that blog as "proof," and so on and so on.
And as surely as messages spread around the world at light speed, our delusions spread because they were there in our heads all along. Nobody knows everything, and we all like to have neat solutions that fit our own world-view, whether it's sweaters for penguins or mysterious Oil Company Conspiracies making planes crash or The James Randi Educational Foundation conning you that astrologers are conning you. Wait, conning or genuinely misled by their worldview? They haven't accepted my challenge yet, so your guess is s good s mine.
Creativity and the ability to imagine new and wonderful things? That too is the domain of Neptune, and because of those functions in our minds we are all more imaginative and creative than carpenter ants… probably. But when the imaginative function overwhelms the more logical functions of, say, Mercury? That's where we can get into trouble. With The Internet not going away any time soon, and with Neptune not leaving the Sign it rules for more than a decade yet, we'll all have plenty of opportunities to see how far our creativity takes us… and how far astray it can lead us, too.
As for me, your lone voice of reason and sanity in this world? Will I be suckered again? Of course!
Questions about your birth chart, or astrology in general? Write me… I've got answers!
CLICK HERE to join the Oh My Stars Facebook Fan Page, and get exclusive content, a discount on a reading,additional material on each blog entry as it comes out, AND a free e-book!
Want to learn the mysteries of Vedic Astrology is an easy, fun way for one low price? Join VEDIC ASTROLOGY WITHOUT TEARS now for a free preview!