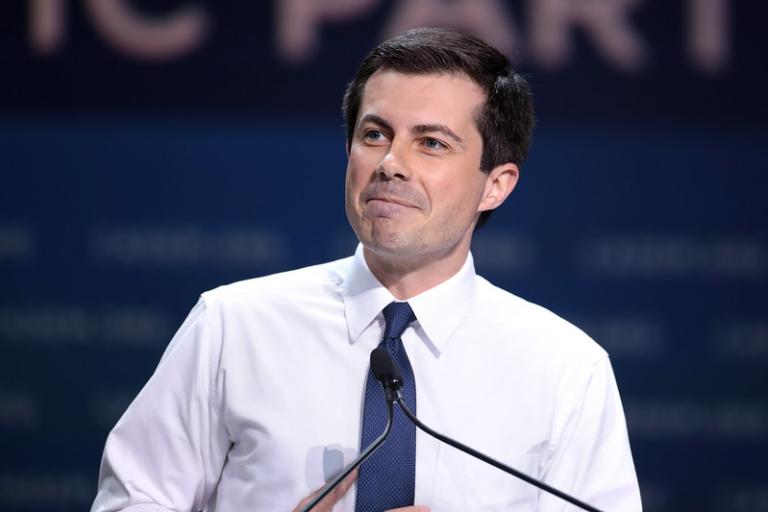 The transportation secretary is encouraging evangelical Christians who are concerned about getting the COVID-19 vaccine to take into consideration that it might be "part of God's plan."
Buttigieg, who is Christian, was asked by "State of the Union" host Jake Tapper about the high number of white evangelicals who refuse to get a COVID-19 vaccine. According to a poll released last month by the Associated Press-NORC Center for Public Affairs Research, about 40 percent of white evangelicals say they won't get a COVID-19 vaccine.
"I've heard people I care about saying, you know, 'If I'm faithful, God's going to take care of me,'" Buttigieg said. "And I guess what I would hope that they might consider is that maybe a vaccine is part of God's plan for how you're going to take care of yourself."
Buttigieg is aware that his opinion on this topic may not persuade many white evangelicals to get the vaccine. Still, he urged faith leaders to be more vocal about their support of vaccines.
"In the end, I have to admit that it's unlikely that an official like me is going to be persuasive to somebody who maybe doesn't feel like Washington has been speaking to them for a long time," Buttigieg said.
"The idea of pastoral care is about supporting those who look to you for guidance," he expressed. "So I hope anybody who is looking after a community of people, including a faith community, will consider ways to help guide them toward steps that can protect them and protect those around them."
According to the New York Times, millions of white evangelical adults in the U.S. do not plan to get vaccinated against COVID-19.
While several well-known evangelical leaders have been vocal about their support of the vaccine, including Franklin Graham and Dallas megachurch pastor Robert Jeffress, other evangelical pastors have been wary of taking a public stance.
Tenets of faith, mistrust of science, and politics all play a role in resistance. As vaccines have become more widely available and virus variants continue to develop, the vaccination issue has taken on new urgency.
The findings in the AP-NORC Center poll have prompted concern even within some evangelical circles. The National Association of Evangelicals, which covers more than 45,000 local churches, will work with media outlets, host events, and distribute public messages to build trust among doubtful evangelicals.
"The pathway to ending the pandemic runs through the evangelical church," said Curtis Chang, a former pastor and missionary who also founded ChristiansAndTheVaccine.com, which powers this new initiative.
Given white evangelicals comprise an estimated 20 percent of the U.S. population, resistance to vaccination by even half of them would significantly hamper efforts to achieve herd immunity, Chang said.