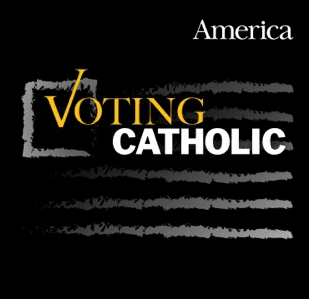 America Media is getting ready to launch a new podcast called "Voting Catholic," which is a series that will dive into pressing election issues prevalent within the Catholic community. Th series will be hosted by Sebastian Gomes, and listeners will explore through topics relating to Catholic voting issues, healthcare, immigration, and race.
The series is comprised of nine 25-minute episodes, and each episode will cover an issue through political analysis and personal storytelling, all from the Catholic perspective.
"Our goal is not to tell people how to vote, it's to move beyond the political talking points by introducing listeners to the human side of the issues in all of their complexity," Gomes said. "Hearing the stories of these Americans who are immersed in the issues changes you. No one who listens to this podcast with an open mind will be left unchallenged. If you think that voting 'Catholic' is all about one issue, think again and listen to the podcast."
Catholic experts and activists on the frontlines will weigh in with hopes of creating awareness around the importance of the catholic vote ahead of the 2020 Presidential election.
"Voting Catholic" launches October 3rd, and will be available on Apple Podcasts, Google Play, Spotify, and the American Magazine website