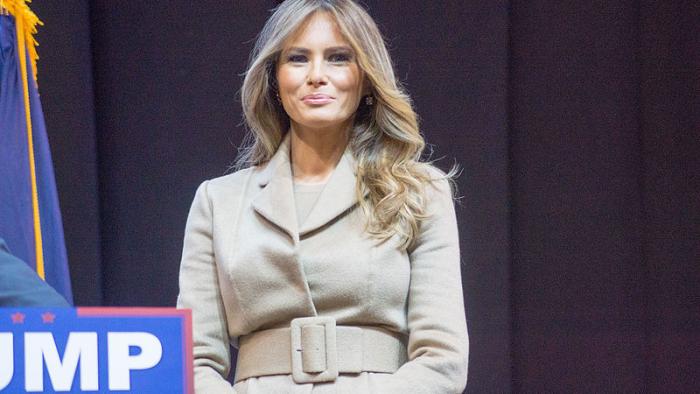 The First Lady is opening up about her COVID-19 experience and is praying for those battling the deadly virus.
President Trump and the First Lady tested positive in early October. Melania shared in an official statement that the first thing she thought about when she was diagnosed was her son, Barron.
Barron initially tested negative but later tested positive but didn't show symptoms. Thankfully, he is now COVID-free.
"In one way, I was glad the three of us went through this at the same time so we could take care of one another and spend time together," she said in the statement. "He has since tested negative."
The First Lady shared that she had "minimal symptoms," dealing with body aches, headaches, cough, and extreme fatigue.
"They hit me all at once, and it seemed to be a roller coaster of symptoms in the days after," she said.
Mrs. Trump expressed her gratitude for her physicians and caretakers that helped her through the virus.
"As the patient and the person benefiting from so much medical support, I found myself even more grateful and in awe of caretakers and first responders everywhere," The First Lady said. "To the medical staff and the residence staff who have been taking care of our family—thank you doesn't say enough."
The First Lady also shared that this was a period was a time of reflection. She thought about her family, as well as the "hundreds of thousands of people across our country who have been impacted by this illness that infects people with no discrimination."
Now that the First Lady has tested negative, she expressed that she will soon be returning to her duties.
"Along with this good news, I want people to know that I understand just how fortunate my family is to have received the kind of care that we did. If you are sick, or if you have a loved one who is sick—I am thinking of you and will be thinking of you every day," the First Lady said. "I pray for our country, and I pray for everyone who is grappling with COVID-19 and any other illnesses or challenges."
"Thank you to everyone who reached out and offered well wishes and prayers for our family. You remain in ours as well," she said.