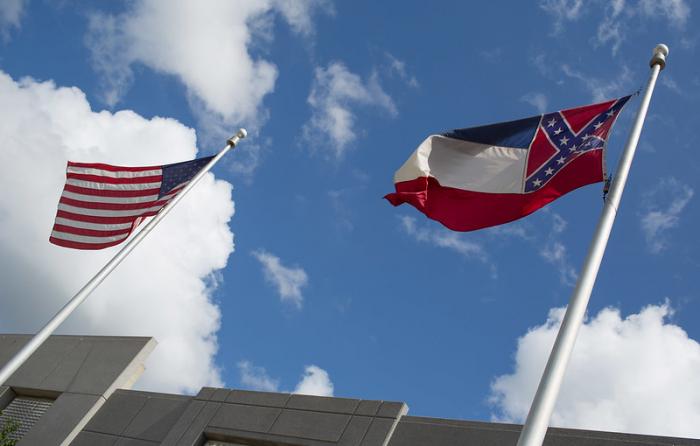 Mississippi lawmakers recently voted to remove the Confederate battle emblem from their state flag. The state's Republican governor signed the decision into law, solidifying another response to ongoing racial reckoning and calls for change.
Now the debate continues as some question what the emblem will be replaced with.
A commission called to redesign the flag proposes swapping the Confederate symbol with the words "In God We Trust." However, the suggestion that the new flag includes the words worried some advocates and watchdog groups outside of Mississippi, who see the phrase often invoked by conservative activists and lawmakers aligned with Christian nationalism.
One of those groups is Americans United for the Separation of Church and State, which decried the phrase's inclusion on the flag. They characterized it as trading "a white nationalist symbol for a Christian nationalist one."
"Mississippians practice a variety of religions and faiths, and one in four identify as nonreligious," Sam Sokol, a policy advocate at Americans United, wrote in a blog post. "Our state flags are powerful symbols, so they should represent our shared values and the diversity of our communities."
"Especially white Americans and white Christians, when they hear 'In God We Trust' they kind of idealize this connection between the United States and a covenant with the Christian God. They're really kind of saying that this country belongs to a certain (group), and really what they're saying is it belongs to white Protestant people," said Andrew Whitehead, a sociologist at Clemson University and co-author of "Taking America Back for God: Christian Nationalism in the United States."
While some are debating the inclusion of "In God We Trust," others celebrate the inclusion. Faith leaders in Mississippi are happy about the inclusion of the phrase on the flag.
Shawn Parker, executive director of the Mississippi Baptist Convention Board, said religious Mississippians are likely to welcome its presence on the state banner.
"As a whole, Mississippi Baptists would be pleased with the presence of 'In God We Trust' on the flag, and would consider it a fair representation of who we are as a state in Mississippi," said Parker.
His group pushed the Legislature to remove the Confederate symbol from the flag in June.
He also pointed to the state's deeply religious nature.
"I think Mississippi, as a general rule, is characterized by religious convictions and a strong faith," he said. "We have a large contingency of our population that, if they're not involved in a local church on a regular basis, they at least understand they should be involved in a church on a regular basis. They recognize God's reality."
Voters will be asked to approve the new design in the Nov. 3 election. If they reject it, the commission will set a different design using the same guidelines for voters to decide later.