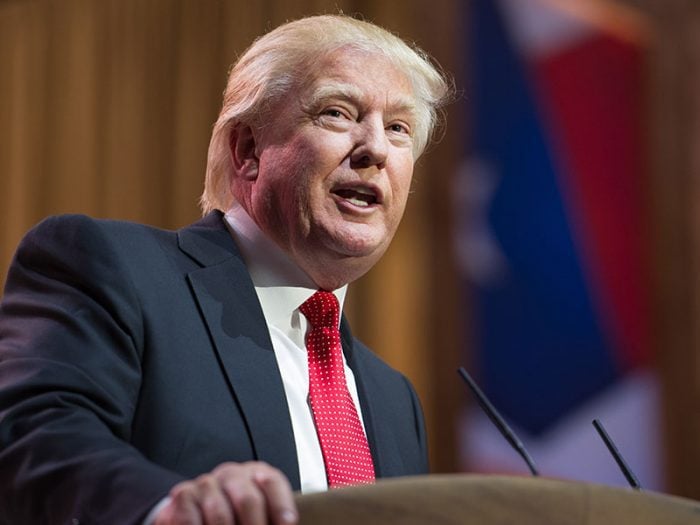 Conservative political activist Ralph Reed argues in a book due out before the 2020 general election that American evangelicals "have a moral obligation to enthusiastically back" the president, according to Politico.
The Faith and Freedom Coalition founder has been one of Trump's strongest Christian supporters following Trump's presidential nomination in 2016 and has assisted Trump in garnering momentum and support from evangelical voters.
The original title for the book was "Render to God and Trump," according to the book's description first obtained by Politico. This is a reference to the well-known biblical verse, "Render to Caesar the things that are Caesar's."
This message from Jesus in Matthew 22 has been used in politics to justify obedience to government. Now, based on the book's description, Reed will argue for the same obedience to Trump.
Regnery Publishing, who are publishing Reed's book did acknowledge the book's existence but said the title is "For God and Country: The Christian case for Trump." When reached out to by Politico, they declined to comment on the reason for the title change.
In the book, Reed argues evangelicals have a duty to defend the president against "the stridently anti-Christian, anti-Semitic, and pro-abortion agenda of the progressive left," the book's description notes.
It is also said that the book will refute claims by religious and nonreligious critics that white evangelical Protestants "revealed themselves to be political prostitutes and hypocrites" by overwhelmingly backing Trump, a twice-divorced, admitted womanizer, Politico reports.
"Critics charge that evangelical Trump supporters … have so thoroughly compromised their witness that they are now disqualified from speaking out on moral issues in the future," the description says.
During his presidency, Trump has made decisions that have sparked debate within the Christian community. Many would say these decisions support his faith beliefs. One big example was his Jerusalem move, making the announcement that the U.S. would officially recognize Jerusalem as Israel's capital and prepare to relocate the U.S. Embassy from Tel Aviv to the Holy City. Evangelicals and Catholics reacted in different ways.
American evangelicals, especially those close to President Donald Trump praised President Trump's Jerusalem decision, hailing his announcement that the United States now recognizes Jerusalem as Israel's capital. Pope Francis, however, spoke of his "deep concern" about the situation created by President Trump's move, given the disruption of a delicate equilibrium in the governances of the sacred city and its holy sites. He warned of "increased hatred, conflict, violence and suffering in Jerusalem and the Holy Land" as a likely result of President Trump's initiative.
"There are ministry leaders and prophetic voices who are convinced God brought Donald Trump, who had said for many years that he was not at all interested in running for public office, to this place for this time," author Stephen E. Strang wrote. "It may well be that Trump was sent by God as a bull in a china shop to break up the globalist agenda and interrupt the left's campaign to remake America in their own image. A man with a milder, gentler, less aggressive personality could never hope to take on the forces within the political establishment and prosper, which explains why Donald Trump was the perfect choice for this hour."
So is President Trump truly born-again? Is he the best candidate for Evangelical votes? For evangelicals, "accepting Christ" and being born-again is at the heart of becoming a genuine Christian. It refers to acknowledging sin and declaring the need for Jesus Christ as Savior. To be "born again" literally means "born from above." When you are born again, you experience a spiritual transformation, a total change of heart. To be born again is to be saved.
While some believe that Trump has had a born-again conversion and should maintain support from Evangelical voters, others don't. What are your thoughts?