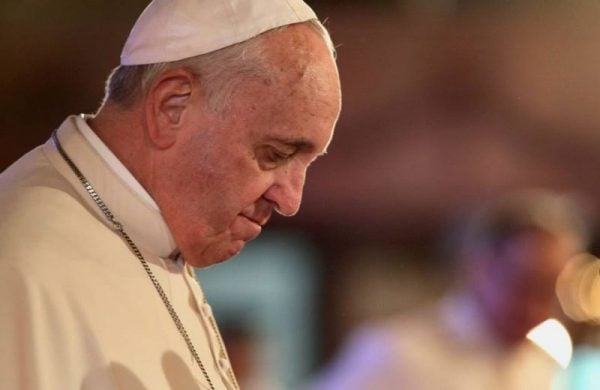 The pope opened up debate on whether the Catholic Church should loosen its 1,000-year-old celibacy requirement for priests at a three-week meeting of bishops.
It is the most controversial proposal at the meeting and an attempt to ease the Amazon region's shortage of Catholic priests.
Since 1965, there has been almost a 30 percent decrease in the number of priest in the United States. These numbers have led to what Pope Francis called an "enormous problem" that needs to be tackled "fearlessly."
During the sermon at Mass in St. Peter's Basilica, the pope didn't directly address the controversial topic. However, he did talk about the importance of church leaders not being held down by the "status quo."
"We have not come here to invent programs of social development or custody of cultures," the pope said. "We come to contemplate, to understand, to serve the peoples."
Cardinal Claudio Hummes, retired archbishop of Sao Paulo who organized the synod, said many rural Amazon communities have so little access to priests that Sunday Mass can't be held, USA Today reports. While the Eucharist can be distributed to worshippers by non-priests, the wafers must be blessed by a priest, USA Today said.
"Indigenous communities, faced with the urgent need experienced by most of the Catholic communities in Amazonia, requested that the path be opened for the ordination of married men resident in their communities," Hummes said. "Albeit confirming the great importance of the charisma of celibacy in the Church."
The priest shortage in the region impacts close to 85 percent of villages in the Amazon. This issue is most noticeable and prominent in South and Latin America.
The thought is to allow married "proven men" who are respected in the community to be ordained. This will be discussed in the synod in the coming weeks.
One of the biggest concerns of conservative opponents is that it will lead to the stripping of celibacy requirements across the entire Catholic Church.
Pope Francis has expressed that he doesn't intend to make a unilateral decision on the matter, but this doesn't totally alleviate concerns from conservative Catholics.
While opponents feel the decision is a mistake and would ultimately undermine the distinctive character of the priesthood, there are others who feel such reform is long overdue.
While synod participants will vote on the final document, the pope has the ultimate say on what changes the Catholic Church will adopt.