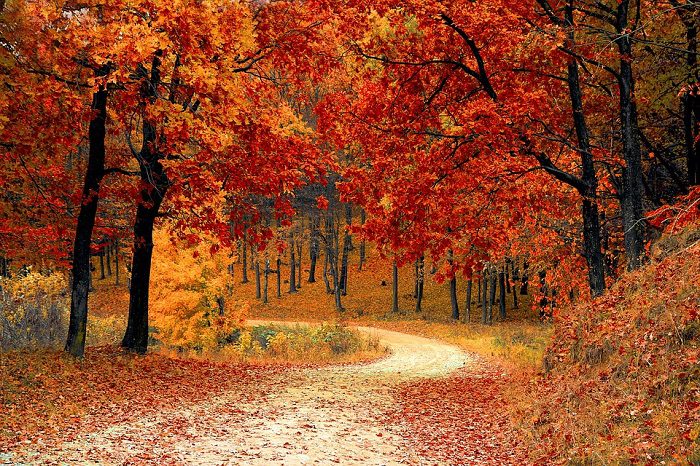 Pumpkin spice didn't rank #1.
If fall is your favorite season, you probably look forward to the coolness in the air, the colorful changing of leaves and sweater weather.
With fall right around the corner, the Society of Happy People surveyed their members to find out what they loved most about the season. To the group's surprise, they found that people really don't like pumpkin-flavored food and drinks as much as we think. In fact, pumpkin-flavored food and football season ranked at the bottom of the list.
"Based on grocery store endcaps filled with pumpkin-flavored everything, and restaurants touting their pumpkin- flavored foods, I'm a little surprised that pumpkin-flavored foods didn't appear higher and pumpkin flavored drinks didn't make the top 16," said Pamela Gail Johnson, founder of the Society of Happy People. "And with football season, literally, just kicking off, I'm astonished that didn't score better as well."
So what do people really love most about fall?
According to the survey, the top things that made people smile most during fall were fall leave/foliage, crisp fall air, Thanksgiving, Fall temperatures and Fall scents.
"We discovered that everyone is looking forward to cooler temperatures, being outside, and celebrating holidays with family and friends," added Johnson. "But we also found that the overall list of fall smile starters is so diverse because happiness is personal."
When it came to social activities, many respondents put that they looked forward to bonfires, pumpkin carvings, hay rides and the new fall TV line-up. There were also write-in responses that including going to the apple orchard, making soups and stews, lighting scented candles and walking in the woods with crisp leaves under their feet – all things that make fall so special.
What do you love most about fall? Is it putting on your favorite fall sweater, sipping on your favorite cup of hot chocolate, coffee or tea, checking out the creepiest haunted houses or eating your favorite comfort foods?