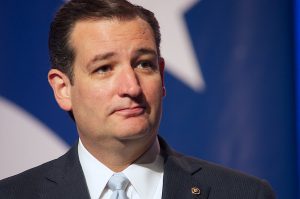 Sen. Ted Cruz responded to actress Alyssa Milano after the actress asked if there was any Bible passage supporting the second amendment. She posted to Twitter saying, "cite which passage of the Bible God states it is a God-given right to own a gun."
Milano made the tweet responding to Texas lawmaker Rep. Matt Schaefer. Schaefer was writing about why he refuses to "use the evil acts of a handful of people to diminish the God-given rights of my fellow Texans."
In a long series of tweets, Cruz said the following to make his side of the argument clear.
"An excellent Q, worth considering carefully w/o the snark of Twitter. It is of course not the right to a modern-day firearm that is God-give but rather the right to Life & the right to Liberty," the Texas Republican said. "Essential to that right to life is the right to DEFEND your life & your family. The right to self-defense is recognized repeatedly in the Bible, eg Exodus 22:2: 'If a thief is caught breaking in at night & is struck a fatal blow, the defender is not guilty of bloodshed.' (Note, though, verse 3 says it IS murder if during daylight (ie, not self-defense)."
Cruz continued on, highlighting the heroics of Stephen Willeford, the Texan man who opened fire on the shooter in the Sutherland Springs massacre, likely saving several lives.
In conclusion, Cruz noted that "playing politics with these deranged crimes—and trying to use them as an excuse to violate the constitutional rights of law-abiding citizens—won't make anybody safer."
Milano, who is a known liberal, asked the question in the wake of the Midland and Odessa, Texas shooting. On Saturday, a 36-year-old man killed seven people after firing indiscriminately as he drove through the Texan town of Odessa in a hijacked US Postal Service vehicle. Those fatally shot were aged between 15 and 57-years-old, with a 17-month-old girl receiving injuries after being shot in the face.
Milano responded early Monday morning, saying she'd "love to come in and meet" Cruz when she is in Washington, D.C. next week.
"We can live-stream the meeting so the American people can hear your bullsh*t 1st hand," she said, adding she'd like to talk about 1 Peter 4:8, which says: "Above all, love each other deeply, because love covers over a multitude of sins."