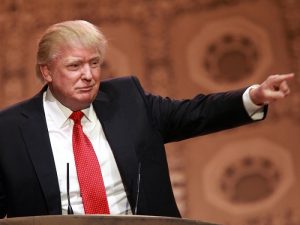 President Donald Trump hosted a Rose Garden ceremony with V.P. Mike Pence for the National Day of Prayer. The president spoke about how powerful prayer is, and called on American's to pray for protection of religious freedom.
"Our Nation's honored tradition of prayer has sustained us and strengthened our trust that God will continue to watch over and accompany us through the best of times and the darkest hours. May we as Americans never forget the power of prayer and the greatness of our Creator," Trump stated.
The president listed practical ways his administration is working towards religious freedom. Furthermore, he announced new conscience protections for religious health care providers so that they're not forced to violate their religious beliefs about abortion.
"Every citizen has the absolute right to live according to the teachings of their faith and the convictions of their heart. This is the bedrock of American life. To protect this heritage my Administration has strongly defended religious liberty," he said.
The night before, Trump held a gathering of roughly 100 religious leaders at the White House in celebration of the "power of prayer." Church leaders present included Kenneth and Gloria Copeland, Franklin Graham, James and Shirley Dobson, Jentzen Franklin, Jerry Falwell, Jr., Mike Huckabee, Robert Jeffress, Alveda King, Johnnie Moore, Ralph Reed, and Paula White.
"America will be a nation that believes forever, and we certainly believe – more than anyone – the power of prayer," Donald Trump declared. "It's the most powerful thing there is."
"Tonight we break bread together united by our love of God, and we renew our resolve to protect the sacred freedom of religion—all of us," he said.