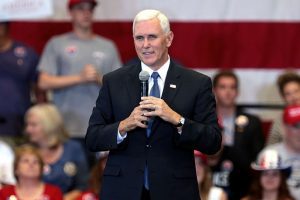 Taylor University, a small, Christian liberal-arts college located in Upland, a town northeast of Indianapolis, Indiana, invited Vice President Mike Pence to speak at their commencement ceremonies. Once this invitation was released to the public, outrage ensued.
In the statement, Taylor University president Dr. Paul Lowell Haines said, "Taylor University is pleased and honored to welcome to our campus and its 2019 Commencement exercises, Vice President Pence."
Dr. Haines added, "Mr. Pence has been a good friend to the University over many years, and is a Christian brother whose life and values have exemplified what we strive to instill in our graduates."
Quickly, an online petition sprung up claiming that Pence did not live by the same Christian values the university does. Over 3,300 people signed the petition. Of 113 faculty members, 61 of them voted in favor of removing Pence's invitation to speak.
One Taylor grad said the school, "should be ashamed…I am physically shaking…I feel personally attacked."
University spokesperson, Jim Garringer, stated that the university stands by its invitation. He further pointed out that the university only hold 2,000 students, and that many of those that signed the petition no longer attended the university.
"Mr. Pence has been a friend of Taylor's for a number of years. As a governor of Indiana, he's been quite familiar to us and we feel the faith that he espouses is orthodox and felt he was an appropriate choice," Garringer said.
"Since making the announcement of Vice President Mike Pence's upcoming commencement speech, we have received feedback from people on either side of the issue. Taylor University is an intentional Christian community that strives to encourage positive, respectful and meaningful dialogue. We look forward to hosting the Vice President next month." Garringer said.
This isn't the first time Pence has been rejected by the student public. Last year, 100 students walked out in protest when Pence spoke at Notre Dame University.