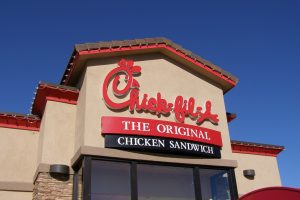 Super Bowl ads are supposed to be funny and clever, but some come under scrutiny when they push the limit. Zaxby's ad this year took a jab at Chick-fil-A for not being open on Sunday's, and it got a major recation. Most of it not in the positive way Zaxby's had intended.
The Zaxby's commercial showed former NFL player Jeff Saturday and former Major League Baseball player Rick Monday, headed to a restaurant together on Sunday. Jeff Saturday struggles to open the door of a restaurant, asking Monday if he thinks it might be closed. "No man," Monday responds while pointing to the sign on the door. "Push!" The two find themselves at Zaxby's, and are seen eating a plate of chicken. "Hand-breaded chicken, fresh-made salads and world-famous sauces. On Sunday and every day, only at Zaxby's," the narrator says.
Although the Zaxby's ad never mentioned Chick-fil-A directly, it is common knowledge that America's No. 1 fast-food chain is the only one to stay closed on Sundays for religious purposes. Zaxby's YouTube channel also titled the commercial, "Zaxby's Sunday (And Every Day) Chicken," making the message even more obvious.
In an unrelated Facebook post Zaxby's shared on Super Bowl Sunday, commenters shared exactly how they felt about their commercial's sly jab at Chick-fil-A.
Facebook user Stephen Andrew Dyer commented: "Just saw your superbowl commercial, made me hungry for some GOOD CHICKEN!! Can't wait to get it at Chick Fil A tomorrow."
Christy Amanda Black wrote, "I'm glad Chick-Fil-A honors a day off for their employees to attend church! You're not superior – just greedy!"
"My biggest takeaway from your commercial: The only reason to eat here is because Chick-fil-A is closed," Billy Proto wrote. "Not exactly a great marketing campaign."
"Unbelievable how you have to talk down to a competitor for closing on Sunday. Not sure how this promotes your business. Done!" Kevin Mings wrote on Zaxby's Facebook page.
One user, Gerald Wolfe, told the chain that he is a fan of Zaxby's, "but the commercial taking a 'cheap shot' at Chick-fil-A for choosing to be closed on Sundays, so their employees can attend church and spend time with their families, was in very poor taste."
Chick-fil-A's website says its founder, Truett Cathy, "made the decision to close on Sundays in 1946 when he opened his first restaurant in Hapeville, Georgia."
"Having worked seven days a week in restaurants open 24 hours, Truett saw the importance of closing on Sundays so that he and his employees could set aside one day to rest and worship if they choose – a practice we uphold today," it says.