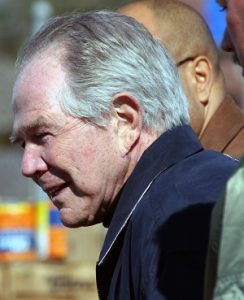 Pat Robertson is back, this time with a prayer that, he claims, will send Hurricane Florence spinning harmlessly out to sea. The famous televangelist spoke from Virginia and called for the men and women assembled to help him put a "shield of protection" around the Tidewater region to protect it from the storm barreling down on it.
Robertson cited Mark 4:38, "When Jesus woke up, he rebuked the wind and said to the waves, 'Peace! Be still!' Suddenly the wind stopped, and there was a great calm. Then He said to His disciples, 'Why are you so afraid? Do you still have no faith?' And they were filled with fear and said to one another, 'Who is this then, that even the wind and the waves obey Him?" Robertson's goal was to have him and his congregation enact a very similar miracle. Instead of silencing a thunderstorm on an inland sea, however, they were hoping to stop the Category Four hurricane that is roaring across the Atlantic.
"The Bible says where two of you agree on Earth…anything that they will ask it'll be done for them by My Father which is in heaven," Robertson said. "[Hurricane Florence] will obey us if we are together with one accord."
"Now together, I'm asking all of us to believe God…This area [is] counting on us to pray for them, so I'm going to ask you right now to put your hand out toward the Atlantic," Robertson instructed his listeners, "And let's speak a word right now. In the name of Jesus, you Hurricane Florence, we speak to you in the name of Jesus, and we command the storm to cease its forward motion and go harmlessly into the Atlantic. Go up north away from land and veer off in the name of Jesus. We declare in the name of the Lord that you shall go no farther, you shall do no damage in this area. We declare a shield of protection all over Tidewater, and we declare a shield of protection over those innocent people in the path of this hurricane. In Jesus' holy name, be out to sea! In Jesus' name! Thank you, Lord."
Robertson said that those stating the prayer must have no doubts if the ritual is to work, but he said he claimed he had seen the ritual work against numerous hurricanes. "We saw it happen in 1960, I've seen it in year after year. Hurricanes tried to get in here, and they couldn't do it. It's almost hilarious to see them try," he said. "They try to get in and they can't, and then they go north and they turn around, try to come back in. They can't do it. God has put a shield around it and that shield has been reactivated today! We are not going to let Hurricane Florence hurt us! In Jesus' name, hallelujah!"
Robertson's gesture is appreciated, but most people are doubtful that his spell-like prayer will actually dispel the storm that is set to make landfall in the Carolinas in just a few days. Instead, they are either evacuating or bracing themselves for the hurricane's arrival and are praying less about a mystical shield and more for the protection and safety of all those who are preparing to face down mother nature's wrath.