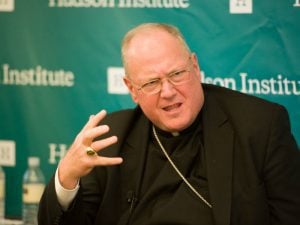 On Friday, the Department of Homeland Security confirmed that at least 2,000 children had been separated from their parents since the implementation of the Trump administration's "zero-tolerance" immigration policy. In an interview with CNN, Cardinal Timothy Dolan, a prominent leader in the Catholic Church, said there is no biblical defense for separating families. He condemned the practice as "unjust" and "un-American."
"If they want to take a baby from the arms of his mother and separate the two, that's wrong. I don't care where you're at, what time and condition, that just goes against – you don't have to read the Bible for that. That goes against human decency. That goes against human decency. It foes against what's most sacred in the human person," Dolan told CNN's Chris Cuomo on "Cuomo Prime Time."
Attorney General Jeff Sessions incorrectly applied Scripture in quoting Romans 13 to defend the policy on Thursday, suggested Dolan.
"I appreciate the fact that Attorney General Sessions refers to the Bible," Dolan said. "The quote that he used from St. Paul might not be the best."
"For one, St. Paul always says that we should obey the law of the government if that law is in conformity with the Lord's law. No pun intended, but God's law trump's man's law," Dolan said.
"I don't think that we should obey a law that foes against what God intends that you would take a baby, a child, from his or her mom. I mean, that's just unjust. That's un-biblical. That's un-American. There could be no biblical passage that would justify that," Dolan said.
In a statement released by the United States Conference of Catholics Bishops earlier this week, the group condemned family separation. Dolan said a group of bishops may head to the border to provide spiritual and emotional support.
Dolan, who gave a prayer at President Trump's inauguration, said he hopes the President can work with both parties in Congress to find an immigration solution.
Do you agree that President Trump's immigration crackdown that forcibly separates children from their parents who have crossed the border illegally is unjust and unbiblical?