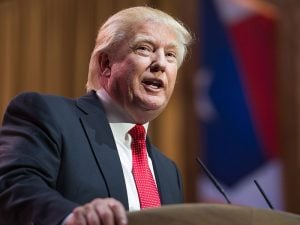 At a National Day of Prayer event held at the White House, President Donald Trump signed an executive order creating the White House Office of Faith-Based and Community Initiatives.
The executive order was signed "to ensure that the faith-based and community organizations that form the bedrock of our society have strong advocates in the White House and throughout the Federal Government," a White House document reads. The new initiative aims to give faith groups stronger voice within the federal government and serve as a watchdog for government overreach on religious liberty issues.
This new order will make Trump the third president to have a White House devoted to faith initiatives, following after presidents George W. Bush and Barack Obama.
"The executive branch wants faith-based and community organizations, to the fullest opportunity permitted by law, to complete on a level playing field for grants, contracts, programs and other Federal funding opportunities," reads part of the order.
"The efforts of faith-based and community organizations are essential to revitalizing communities, and the Federal Government welcomes opportunities to partner with such organizations through initiative, measurable and outcome-driven initiatives."
Trump labeled the executive order a "historic action" and boosted his administration's efforts to protect the religious liberty of people both in the United States and overseas.
"The faith initiative will help design new policies that recognize the vital role of faith in our families, in our communities, and our great country," Trump said. "This office will also help ensure that faith-based organizations will have equal access to government funding and the equal right to exercise their deeply held beliefs. We take this step because we know that in solving the many, many problems and our great challenges, faith is more powerful than government. And nothing is more powerful than God."
Trump's initiative is being hailed, particularly by conservative Christians. Johnnie Moore, a minister and public relations consultant who serves as an unofficial spokesman for a group of evangelicals that advises Trump, said the new initiative takes a different approach from faith-based initiatives by previous presidents.
"Ordering every department of the federal government to work on faith-based partnerships – not just those with faith offices – represents a widespread expansion of a program that has historically done very effective work and now can do even greater work," Moore said.
Florida megachurch pastor Paul White, who is also one of the key evangelical advisers to the president also praised the new initiative.
"I could not be more proud to stand with President Trump as he continues to stand shoulder to shoulder with communities of faith," she said. "This order is a historic action, strengthening the relationship between faith and government in the United States and the product will be countless, transformed lives."
But there are some who believe this executive order is problematic, particularly for those who don't share certain religious beliefs. Critics, including Americans United for Separation of Church and State, have argued that it will further advance discriminatory measures in the name of religion.
Americans United President and CEO Rachel Laser believes the executive order is "one more attempt by Trump, cheered by his Evangelical Advisory Board, to redefine religious freedom to mean the freedom to discriminate against those who do not share your religious beliefs."
"Our country is strongest when we are all free to believe, or not, as we see fit and to practice our faith without hurting others," Laser said.
What are your thoughts on Trump's executive order? Do you think it will give faith groups a stronger voice within the federal government or only further religious discrimination?