Thousands of Texans, including the state attorney general and the governor, have sent a clear message to Wisconsin atheists who enjoy intimidating small towns into removing nativity scenes.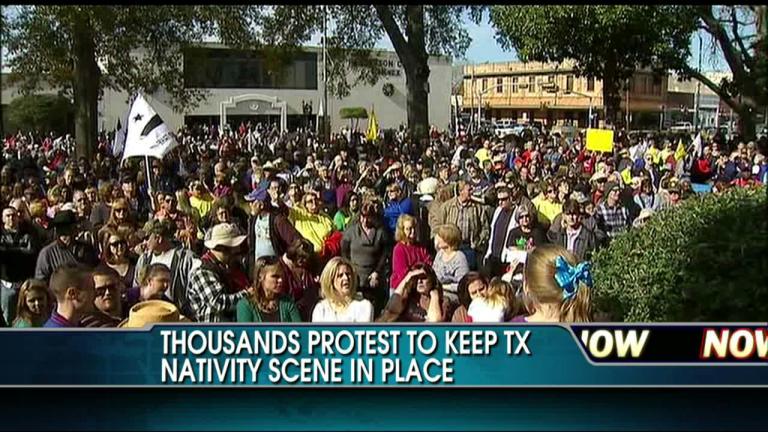 At least 5,000 showed up at a rally supporting Henderson County officials who have refused to comply with the group's demand that they remove a nativity scene from the Athens, Texas, courthouse lawn.
Texas Attorney General Greg Abbott said that if the Wisconsin atheists sue as threatened, his office would come to the county's defense.
Texas' governor, Rick Perry, also said he would fight to support the county, noted the San Antonio Express-News.
The governor's office "strongly supports the right of Henderson County to display a Christmas Nativity scene on public property," said Lucy Nashed, deputy press secretary for Perry's office. "We have fought the Freedom from Religion Foundation before and won. Our founding principles give citizens freedom of religion, not freedom from religion. Faith and freedom helped build this nation, and faith cannot and should not be removed from public life."
Last summer, the Wisconsin atheists attempted to block Perry from organizing a prayer rally at Reliant Stadium in Houston. That complaint filed in July alleging that Perry's "initiation, organization, promotion and participation as governor in a prayer rally" violated the First Amendment was dismissed by U.S. District Judge Gray Miller.
Last week the group put up a banner next to the Henderson County nativity scene reading, according to the Express-News: "At the season of the Winter Solstice, let reason prevail. There are no gods, no devils, no angels, no heaven or hell. There is only our natural world. Religion is but myth and superstition that hardens hearts and enslaves minds."
A local pastor, Nathan Lorick, praised law enforcement officials for removing it and said the banner insulted believers and demeaned religion, whereas a nativity scene, menorah or other religious displays do not demean people of faith, instead remind the world of inspiring events in history.
Lorick noted that the Wisconsin atheists are notorious for attacking small towns that "do not have the means to defend themselves legally" and seeking as much publicity as possible.
The group filed a similar complaint in Ellwood City, Pa., last month. In order to avoid a costly legal battle, the borough council voted to move the display off the municipal building grounds, where it had been erected annually for about a half-century.
Surveying the crowd of 5,000 on the courthouse supporting county officials, Lorick told Fox News, "We are humbled at the turnout of the crowd. We believe that God led us to do this and so we knew He was up to something great. This message is resonating in the hearts of people all over the country. This was a real statement to the nation that Christians are tired of the persecution and suppression. We want all to know that we are ready to contend for the faith."
"Our message to the atheists is don't mess with Texas and our nativity scenes or the Ten Commandments," said Texas State Attorney General Greg Abbott told Fox News & Commentary. "I want the Freedom From Religion Foundation to know that our office has a history of defending religious displays in this state."
He said the organization is trying to "bully local governmental bodies" and he said he wanted to make sure Henderson County knows "there is a person, a lawyer and an organization in this state that has their back, that has the law, that has the muscle and firepower to go toe-to-toe with these organizations that come from out of state trying to bully governmental bodies."
"I do hope that people across the nation will take note and know that they too can stand up and speak up," Lorick said. "All I can tell you is that my eyes have been opened to a large number of people who want to see us fight for our faith."